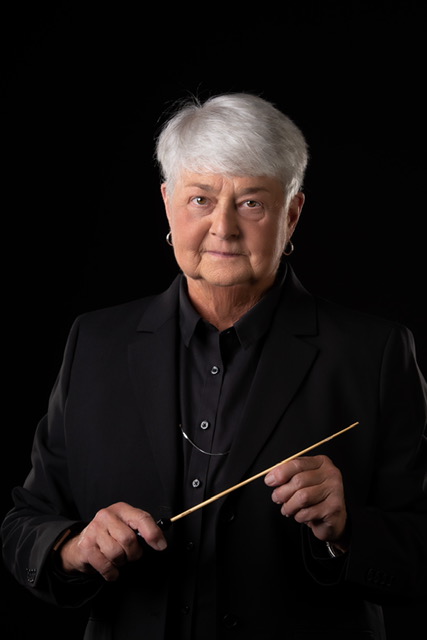 Titles and Organizations
Adjunct Faculty and SUPERVISION OF STUDENT TEACHERS, Dewberry School of Music, CVPA
Biography
Mary Ulrey earned a Bachelor of Music Education degree from the Indiana University School of Music studying under Fred Ebbs, Ray Cramer, Henry Gulick, and Robert Klotman. While at IU, she advocated for women to be able to join the Marching Hundred and was in the first class of five women to march.  Ms. Ulrey completed her seasons with honors.  In 1990, Ms. Ulrey received the MA degree in Instrumental Conducting from George Mason University, where she studied under Professor Tony J. Maiello.
Ms. Ulrey began her career as the Band Director at Northridge High School in Elkhart County, Indiana in 1975 where she taught all band classes, music theory, marching band, pep band and started a jazz band and color guard organization.  While at Northridge, Ms. Ulrey was named an "Outstanding Young Educator."  In 1985, Ms. Ulrey began a 25-year career with Fairfax (VA) County Public Schools.  She was the Band Director at Fairfax High School for 16 years before moving to Thomas Jefferson High School for Science and Technology.  In her years at Fairfax, she taught Advanced Placement music theory, concert bands, and started what became the only jazz band to win the Chantilly Jazz Festival four times consecutively.  The Symphonic Band earned consistent superior ratings in festival performance throughout Ms. Ulrey's tenure and was chosen to perform at the 1995 National Concert Band Festival in Chicago, where the band gave the first national performance of Eric Whitacre's "Ghost Train."  In addition, she instructed marching band, instituted color guard and drumline programs at the school and served as the director for many school musicals. Ms. Ulrey was twice named "Teacher of the Year" at Fairfax HS and was a finalist for the Washington Post Agnes Meyer Outstanding Educator of the Year recognition in 1990.
At Thomas Jefferson High School for Science and Technology, Ms. Ulrey was responsible for three concert bands, marching band, jazz band, color guard, and winter drumline.  The Symphonic Wind Ensemble received consistently superior ratings at festival and the Marching Colonials also became one of the premier marching bands in Northern Virginia, winning many competitions under Ms. Ulrey's direction.  The jazz band's yearly highlight was the spring jazz cabaret featuring guest artists such as Graham Breedlove, Dave Bandman, Chris Vadala, and Rob Holmes.  She was a staunch advocate for fine arts education within the STEM-school setting and was passionate about helping her students maintain their ability to participate in curricular performance ensembles throughout all four years at TJHSST.
Since retirement, Ms. Ulrey has continued to work with several marching and concert band programs in Fairfax County.  Currently, she is the assistant director of the Westfield HS Marching Bulldog Band and teaches sectional rehearsals for concert bands and marching band at Westfield HS.  She has also enjoyed stepping in to both long- and short-term substitute assignments in Fairfax and Loudoun County Public Schools.  Ms. Ulrey is a regionally active adjudicator and guest conductor for middle school and high school band programs.  She enjoys teaching leadership training to high school drum majors and section leaders and is a member of the National Band Association and National Association for Music Education.
In her spare time, Ms. Ulrey relishes time to read, golf, and travel.  She has set a goal to tour all 63 National Parks in the next few years.
Degrees:
MA Conducting, George Mason University
BM Music Education, Indiana University Jacobs School of Music