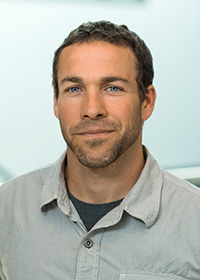 Titles and Organizations
Sculpture Supervisor, School of Art, CVPA
Contact Information
Phone: 703-993-8651
Campus: Fairfax
Building: Art and Design Building
Room L006B
Mail Stop: 1C3
Personal Websites
Biography
Ben Ashworth is currently the Sculpture Studio Supervisor at George Mason University and is pursuing his MFA.  His work exists at the collision of art, skateboarding and community and play.  His projects join community and artist alike.  He has teamed up with Washington, DC based Green Skate Laboratory to organize and build a skatepark for Langdon Recreation Center constructed from more than 3,000 reclaimed tires by an all-volunteer labor team (including neighborhood kids).  He is currently collaborating with the Kennedy Center to present Finding a Line: Skateboarding, Music, and Media with Jason Moran from September 5-12, 2015 on the Kennedy Center Plaza.
EXHIBITIONS, PUBLIC WORKS, ENGAGEMENTS, AND COMMISSIONS
2014 – Ongoing Kennedy Center Community Project, Washington, DC , artist Ben Ashworth and Kennedy Center Advisor for Jazz Jason Moran explore Aesthetic Parallels between Skateboarding and Jazz.
2014 Collaborative Partner for Daylight Saving/ a 25-hour bilingual, roving, online broadcast exploring the policies and poetics that regulate public time, economy, and communication. The broadcast streamed from a truck roving the capitals geometries, stopped at a variety of sites while hosting sound, music, dialogue, and language experiments. DC's Green Skate Lab was our selected site. Topics and experiments revolved around Sun Rah, time machines, skateboarding, and jazz. Selected by Artist Augustina Woodgate for DC Commission on the Arts and Humanities temporary public art project 5×5.
2014 "Exchanged III", group exhibition, Brentwood Arts Exchange, Brentwood, MD May – April
2013 "Exchanged II", group exhibition, Artwork Gallery, James Madison University, Harrisonburg, VA
2011 Rocky Run Park Public Art Design Concept, Arlington VA, artists Ben Ashworth and Richard Vosseller public art concept for Arlington County Parks and Recreation
2011 – Ongoing Finding a Line, Washington DC, artist Ben Ashworth with Workingman Collective public art project that takes the improvisational act at the core of skateboarding – finding a line through physical space – and applies it to the process of transforming a community space. Selected by curator Laura Roulet for the DC Commission on the Arts and Humanities' temporary public art project 5×5. NOTE: Finding a Line is a TED City 2.0 award finalist
2004 – Ongoing Green Skate Lab , Construction Foreman for public recreational skate park collaborative design + build project emphasizing recycling, physics, and environmental science. Multiple semester project with professional, student, and community labor, Langston Recreation Center, Washington D.C.
2004 – 2010 FCDC, Principal partner for private recreational and creative space for skateboarding, arts, music, documentation and construction. After two years of increasing popularity and a wildly destructive party, a media campaign was organized to proclaim the "death" of FCDC. Meanwhile, operations continued with emphasis on more low-key celebrations, social experiments, and exhibitions.
Research
AWARDS/GRANTS
2011 5×5, DC Commission on the Arts and Humanities' temporary public art project grant, 25K. NOTE: Finding a Line is a TED City 2.0 award finalist
2010 Thomas W. Iszard III Distinguished Alumni Award, George Mason University, College of Visual and Performing Arts
2004 Tony Hawk Foundation Grant, 14K Project Learning Tree Grant, 6Kis