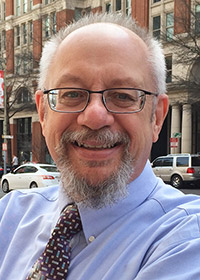 Titles and Organizations
Adjunct Faculty, School of Art, CVPA
Contact Information
Phone: 703-993-8898
Campus: Fairfax
Building: Art and Design Building
Room 2050
Mail Stop: 1C3
Biography
James X. Van Meer (Jim) is a native of the Washington, D.C. metro area and has been actively engaged in branding, marketing, and design for over 40 years. His scholarly background includes an Associate of Arts in Advertising Design from Montgomery College, Rockville, MD, a Bachelor of Arts in Design from American University, Washington, DC, and a Master of Fine Arts in Art and Visual Technology from George Mason University, Fairfax, VA. Professor Van Meer's MFA thesis exhibition, Under the Gun, was a "powerful, solemn message" about gun violence in America, using graphic design to "bring statistics to life and encourage peaceful conversations about a particularly volatile subject."
Professor Van Meer began his career as a designer for GEICO's in-house communications team before moving on to become the creative director for The Paton Group, a small, Alexandria, Virginia-based marketing communications firm. He then went on to open his own creative consultancy, Van Meer Creative, before joining the American Petroleum Institute (API), where he served for 22 years as the Senior Manager of Marketing and Creative for the organization's global line of business. Professor Van Meer left API in January 2019 and rekindled Van Meer Creative, offering design, branding, and marketing services to regional and national clients.
In 2015 Professor Van Meer joined George Mason University as an Adjunct Professor in the School of Art, teaching Professional Design Practices and Advertising Design to undergraduate students. Jim also serves as a graduate advisor, primarily in the areas of special topics in graphic design, including independent research and design projects.
Professor Van Meer's studies and work have led to numerous awards and recognition, including the George Mason University School of Art Graduate Award for Academic and Artistic Excellence, Graphic Design USA American In-house Design awards, and Art Directors Club of Metropolitan Washington annual show awards. Professor Van Meer is a member of Phi Kappa Phi, the American Institute of Graphic Arts (AIGA), and the American Marketing Association (AMA).
Degrees
MFA, Art and Visual Technology, George Mason University
BA, Design, American University
AA, Advertising/Design, Montgomery College