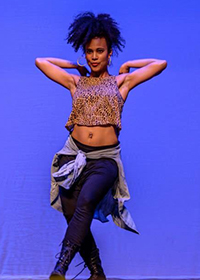 Titles and Organizations
Adjunct Faculty, School of Dance, CVPA
Contact Information
Campus: Fairfax
Building: de Laski Performing Arts Bldg
Biography
Katherine is an Alumnus of the Professional Performing Hip Hop/Urban Styles Dance Company Culture Shock DC, local Crew TeamWeGonMakeIt and George Mason's Urbanknowlogy 101, where she served as Artistic Director from 2009-2012. 
Through those companies and the George Mason School of Dance, Katherine has been trained in jazz, modern, contemporary and commercial dance as well as urban styles (street styles, funk styles and club styles). She has choreographed and performed numerous pieces in various, including the Prelude Dance Competition, World of Dance: New York, and Culture Shock's International Choreographers Showcase. 
Katherine's teaching career began when she joined the faculty of Born 2 Dance Studio based in Vienna, Virginia in 2012. There she has taught Hip Hop/Urban Styles, K-Pop, and Dancehall classes for adults and youth. Through Born 2 Dance Studio, she continues to choreograph adult and youth performance pieces for the semi-annual Awaken The Dancer Within Gala, and youth competitons. She also performs with the Hip Hop faculty at the semi-annual studio showcase and directs and choreographs and performs for their Music Video Series.
Since 2017, Katherine has been the artistic and program director for Born 2 Dance Studio's Urban Styles program: Urban Theory and Movement, which is a dance curriculum written by Katherine, based on the collective foundational movement of American Urban styles. Katherine is an avid student of dance, and continues to pursue furthering her knowledge of human expression through movement through classes and workshops whenever possible.