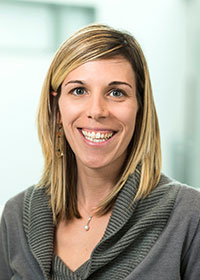 Contact Information
Phone: 703-993-5792
Campus: Fairfax
Building: Art and Design Building
Room 2005
Mail Stop: 1C3
Biography
Nikki Brugnoli (1981) received her BFA from Seton Hill University (2004) and her MFA from The Ohio State University (2007). She serves as adjunct faculty at George Mason University and is the Assistant Graduate Programs Coordinator and Graduate Advisor in the School of Art as well as the Coordinator of the Art Lab at the Lorton Workhouse, Lorton, VA, Assistant Coordinator for the DC Cultural/Flashpoint/GMU MFA Fellowship Program, Washington DC and a Hamiltonian Mentor. Nikki has also taught at the Northern Virginia Community College, and The Renaissance School in Charlottesville, VA.
In addition to her full time academic services at George Mason University, Nikki is the Project Associate for the Al-Mutanabbi Street Starts Here DC 2016 Project.
Brugnoli is also curating two exhibitions in the coming year at McLean Project for the Arts and Brentwood Arts Exchange.
Artist/Maker Statement 
Her work is included in many private collections across the United States, as well as Athens, Greece and Florence, Italy, and is featured in national academic and public institutions.
The history of my work has been driven by a fascination with surface and color, material manipulation, gesture (large and sweeping, small and compelled), and ideas of memory and the body. More recently I've been investigating loss: loss of life, loss of love, loss of memory, and loss of trust. I examine the opposites that exist in us all. I confront them on the skins of my visually constructed surfaces. My deepening curiosity is like a wedge, a hammer, and a spark that ignites the fire that burns through the histories of my works, the layers, the papers, the canvases, the objects, the photographs, and the exchanges.
My studio practice includes and demands relentless photo-documentation of the spaces that are landscapes and inner-scapes about the relationships I occupy, and re-visit from my past, and also of the blurry edges of memory. Both physically and conceptually I document the body, historically, my body. I possess a deep need to understand it, beyond what I can see, and also to acknowledge it's changing form. We are the only true witnesses to ourselves and in my own revelation of this truth, I began to deconstruct and rebuild the very body I occupy. Through my own circuitous understanding of the construction of the body, and abstraction, I mine and repeat these processes and observations onto other ideas, manifestations, and forms. I use Caravaggio-inspired and learned contrast observations to make visible things that are often unseen, forgotten, unremembered, discarded and overlooked to give new form to the rubble and remains to which I am trying to give a voice. Understanding what it means to be human is the only way to define myself as a maker with a vision that is important enough to leave a residue, a visual form.
When all else fails, I pick up my pencil. I make a contour line drawing of something found in front of me. I carefully observe the ways in which it exists simply, and yet as a complex system. It is through this repeated, slow process of close examination of infinite parts and possibilities that I find re-entry into my constantly shifting and changing studio practice and spaces.
Degrees
MFA, Art, Ohio State University