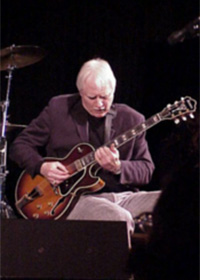 Titles and Organizations
Adjunct Faculty, JAZZ GUITAR, Dewberry School of Music, CVPA
Contact Information
Campus:
Fairfax
Building:
de Laski Performing Arts Bldg
Room A417
Mail Stop: 3E3
Email: 
rwhitehe@gmu.edu 
Personal Websites
Biography
Originally from Miami, Rick Whitehead started playing the guitar at age 11. By the time he was 18, he was performing in shows on Miami Beach and worked with Connie Francis, Sandler and Young, Jayne Morgan, Glen Campbell and others. He joined the United States Air Force Band's Airmen of Note in 1969. As the featured guitar soloist for the USAF Band's Airmen of Note for 22 years, he toured throughout the United States, Far East, and South America with the group.
While with the Airmen of Note some of the notables in jazz he performed and recorded with are vocalists Joe Williams, Sarah Vaughan, Sue Raney and guitarists Mundell Lowe, Johnny Smith, and Roy Clark. He also worked with Dianne Schuur, Billy Taylor, Frank Sinatra, Jr. and Charlie Byrd. He appeared with the band on the Tonight Show, the Mike Douglas Show, Nashville Now, and performed at many major Jazz Festivals across the United States including Newport, Monterey and Mobile. He performed at The East Coast Jazz Festival and the Greater Hartford Festival of Jazz in 2005.
He presents an annual solo jazz guitar concerts as part of the Corcoran Gallery's Jazz Series; has appeared with renown bassist, Keter Betts in the Montpelier Jazz Series in Laurel, MD; with Triplicity at Rams Head Tavern, Annapolis, MD; and with Joe Byrd at 49 West in Annapolis, MD and The Main Stay, in Rock Hall, MD.
In the Washington Metro area, he has performed in the major jazz venues with his trio. During the summer of 2004 the Rick Whitehead Trio performed in concert at the Washington National Cathedral as part of the Cathedral's Summer Music Festival. They are frequently called to perform at special events at the J.F. Kennedy Center for the Performing Arts.
Prof. Whitehead is the recipient of the 2006 Washington Area Musician's Association award (WAMMIE) as Best Jazz Instrumentalist. The Rick Whitehead Trio has also won a WAMMIE in 1998 with their first CD Live in Captivity; their third CD, So There We Were, was nominated in 2007 as Best Jazz CD. The trio was nominated in 2004 and 2006 as Best Jazz Ensemble and in 2007 they won the award. Rick's solo CD Notes from Home was released in 2003 to rave review in The Washington Post and Just Jazz Guitar magazine.
Retired from the Air Force in 1991, Prof. Whitehead is in constant demand as a guitarist throughout the Metro area. In addition to his role as Adjunct Faculty in Applied Jazz Guitar here at George Mason University, Fairfax, VA; he also teaches at Shenandoah Conservatory in Winchester, VA; and in his home studio. He has led clinics at Jazz Festivals, the International Association for Jazz Educators, and many schools and colleges throughout the United States. Prof. Whitehead currently resides in Northern Virginia.
Adjunct Applied Faculty