Visit Mason and Visit Us
Imagine yourself here.
Then come to campus and see for yourself.
Note: The College of Visual and Performing Arts continues to align our visit and on-campus engagement opportunities with guidance from Mason's own health data, the Governor of Virginia and recommendations from public health agencies. As Virginia's and Mason's guidance evolves, we will update this page with opportunities for in-person visits. Please visit the main Mason website for the most up-to-date information.
---
Prospective Undergraduate Students
Visit Us During Our Undergraduate Open Houses
Open Houses and campus tours offer prospective undergraduate students the opportunity to meet your fellow students and faculty, to have your portfolios reviewed, to ask questions, and to see the spaces where you'll be practicing, performing and perfecting your craft. 
High School Seniors and Transfer Students
These winter open houses (took place in January for 2022), will enable prospective students to browse our academic programs, learn about admission procedures, and have their questions answered by the Experience Mason Panel.
Mason's largest Fall event, the Mason Fall Premiere, is geared toward applying high school seniors and transfer students. In addition, prospective CVPA students can meet specifically with our college during the Mason Fall Visit events. 
High School Juniors
CVPA hosts a CVPA Junior Open House for prospective students in their junior year of high school, usually during spring break. If you'd rather come a different day, you can arrange an individual visit with the schools. 
---
Admitted Students
In the Spring, events shift to focus on admitted students, with the Mason Spring Preview Open House and Spotlight Days that run several times throughout the spring. A Spotlight Day geared specifically to CVPA students usually takes place in March each year.
Please visit the main Admissions page for updates on virtual visits and information sessions for Fall 2021.
---
Contact Undergraduate Programs Directly for More Information
---
Prospective Graduate Students
Graduate Program Information
If you have specific questions about your program of interest, please feel free to reach out to the program directly.  If you have questions about the application process or an in-progress application, contact the CVPA Office of Graduate Admissions or call 703-993-5576.​
---
Learn more about our Arts Management Graduate program by attending an Information Session.
Arts Management
---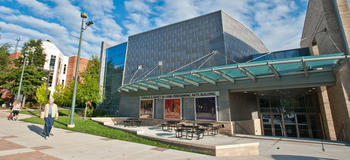 Virtual Experience and Campus Tour
We'd love to welcome you in person to our beautiful campus, but in response to the ongoing COVID-19 crisis, we have created a virtual experience and campus tour. Below, you can also take a virtual tour of Mason's art spaces with Rick Davis, Dean of the College of Visual and Performing Arts. Virtual tours of each of the facilities start at these times on the video:
1:05 Art and Design Building (School of Art, Computer Game Design program, Film and Video Studies program)
3:35 Music/Theater Building (School of Music, School of Theater)
5:58 deLaski Performing Arts Building (School of Dance, School of Theater, School of Music)
7:40 Center for the Arts (performance venue for the Schools of Dance, Theater, and Music)