Let's Come Together for Mason Vision Day
April 7, 2022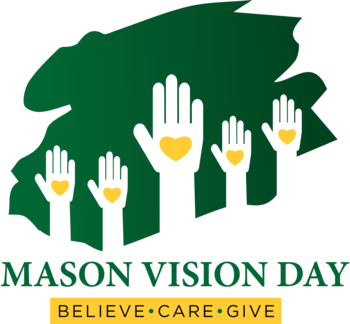 Mason Vision Day is an opportunity for our community to come together each year to identify and support a deserving initiative on campus. This year, your gift will support the Green Machine.
The Green Machine Ensembles embody the power and values of George Mason University. With performances on-campus and off, the Green Machine spreads Mason spirit throughout the region. This year, these award-winning ensembles need your help.
See the Green Machine in Action
Calendar of Events
Fairfax Campus
Wilkins Plaza | 9:00 a.m. - 4:00 p.m.
Mason Vision Day Tables
JC Atrium ft. Doc Nix & the Green Machine
Grab and Go lunch/desserts
JC Bistro |4:00 p.m. - 8:00 p.m.
Club Green Gold
Karaoke
Mason Square (formerly the Arlington Campus)
Main Entry/Plaza
Grab and Go Breakfast and coffee
Sci Tech
Johnson Hall Atrium
Doughnuts and coffee
Korea Campus
Global Lounge
Pancake Breakfast
Regional Celebrations (details forthcoming)
Atlanta, GA
Boston, MA
Gainesville, VA
Hampton Roads, VA
Houston, TX
Philadelphia, PA
Richmond, VA
Tampa, FL