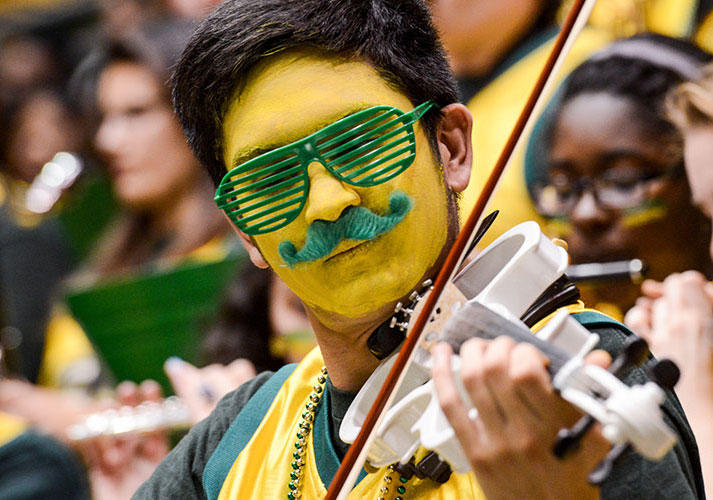 Embrace Your Artistic Side
Connect with your inner artist ... on your terms.
At Mason, you can choose a major in the arts and immerse yourself fully, augment another major with a minor in a creative field, take elective classes and lessons, or simply enjoy the many performances, events, and exhibitions happening on campus. Choose your path to creativity through Mason Arts.
Major in the Arts
Go all in. You know that you're an artist at heart, so let us help you foster your passion. Choose a major that will lead to your creative career.
Minor in the Arts
Your artistic side is part of your identity, but you want to major in another field. Choose a minor in the arts to stay connected to creative endeavors while you study across the university.
Did you know that most Mason students are required to take an Arts course as part of their undergraduate degrees? Tap into your creativity, and take a class with us. Explore the arts through available Mason Arts for the Mason Core classes as part of a well-rounded education. Students who want to be kept on their toes can enroll in dance classes such as Afro-Latino Dance or Beginning Jazz Technique. Drawn to the visual arts? Check out Painting I or see if you have an eye for the Darkroom Photography. If you're manic for movies, head to The History of World Cinema. Those who have a song in their hearts can take such classes as Popular Music in America or Fundamentals of Rock, Jazz and Blues. Unleash your inner DeNiro in Acting 1. The possibilities are endless. 
In addition to classes, music lessons for non-majors are available. For more information about scheduling and pricing, connect with the Dewberry School of Music.
All Mason Arts programs offer courses for arts enthusiasts at every level. Check out the university catalog for available courses, or get in touch with the department for more information.
Perform with Us
If you're drawn to the stage spotlight, join one of our many ensembles, such as the Symphony Orchestra or the #1 NCAA-ranked pep band, the Green Machine. Audition for one of our six annual Theater productions. All ensembles and productions are open to university students, no matter your major. If you have a passion, we have a place for you.
Take in performances and exhibitions by national and international artists, as well as faculty and students, at our performing arts centers and galleries. Mason students get free tickets for more than 100 events each year. No matter what you study at Mason, enrich your life with performances, lectures, exhibitions, and more at the Center for the Arts, Hylton Performing Arts Center, and other campus venues.
You Might Not be a Student, But You Can Still be an Artist
If you love the arts, but don't want to take a college class, we've got you covered. Arts lovers of all ages and interests can take private lessons, group classes, or attend a summer camp through Mason Community Arts Academy, CVPA's community arts school.