Dance Performance Studio is home to the School of Dance Studio Series, which takes place twice each year. This space seats up to 100 people, providing an intimate dance performance experience.
Arts Opportunities for Mason Students
Mason Arts students are surrounded by opportunity.
Encompassing Performances, Classes
The Dance Performance Studio, dedicated to the artistry of dance, functions as a classroom for dance and movement classes, as well as choreography composition. The studio hosts two end-of-semester performances each year.
Programs showcase the Mason School of Dance's concentration on modern dance, with creative presentations representing a spectrum of styles. Tickets are available for the public to attend, however seating is limited to 100 guests.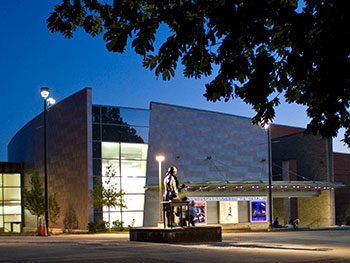 Parking: Covered parking is available in the Mason Pond Parking Deck on Mason Pond Drive adjacent to the Center for the Arts.
Getting Here: In the deLaski Performing Arts Building. From Wilkins Plaza, enter the deLaski Performing Arts building. Once inside, walk through the glass double doors into the School of Dance and turn down the second hallway on your right. The Dance Performance Studio is located on your left.