In This Story
People Mentioned in This Story
Body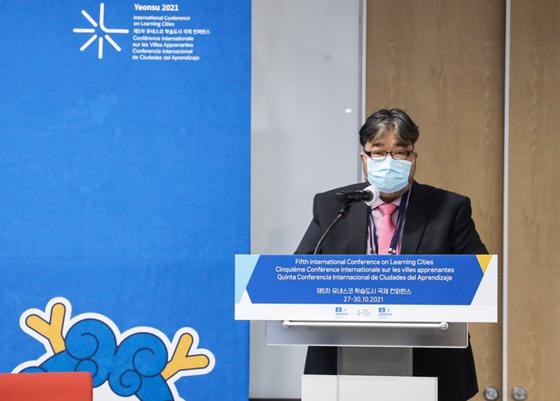 Mason Korea partnered with UNESCO and Incheon's Yeonsu district to contribute to the 2021 5th UNESCO International Conference on Learning Cities (ICLC) held at the Songdo Convensia from October 27-30.
Since May, Mason Korea students Jae Young Lim and Yanghyun Im served as project managers for the ICLC, which entailed overseeing the entire hiring and training process of college student volunteers as well as interpreting for high-ranking special guests from around the world.
Mason Korea leadership, faculty, students, and staff attended the Opening Ceremony of the 2021 ICLC Global Citizen Lifelong-learning Expo hosted by Yeonsu-gu to learn about ways to create healthy and resilient cities.
George Mason University led a special session during the ICLC on "serious games," the use of computer games for education and other social benefits. Professor Sang Nam, Director of Mason's Computer Game Design (CGD) Program, presented and moderated a panel discussion on the current status and future of computer games to advance education and social progress. Following presentations by Professor Nam, Professor Eric Piccione (Assoc. Director of CGD Program at Mason), Professor James Casey (Director of Virginia Serious Game Institute at Mason), and Professor Jungmin Kwon (professor at Seoul National University of Education and visiting professor at Mason), Mason Korea CGD professors Jared Bruhn and John McGrew joined the panelists for a dynamic discussion on serious games, games and education, and the game industry. Mason Korea Campus Dean Robert Matz offered opening remarks.
"This conference really showed off our vibrant community here in Songdo," said Campus Dean Matz, adding, "Mason was excited to participate.  I'm particularly glad the convention provided an opportunity to introduce more people to the potential of computer gaming as a positive social force, rather than only entertainment." 
In addition, Mason Korea operated a booth at the ICLC exhibition hall, where Mason Korea student volunteers introduced the university to visitors at the fair. The Patriot mascot was a key feature at the fair and was very popular with visitors of all ages.