In This Story
People Mentioned in This Story
Body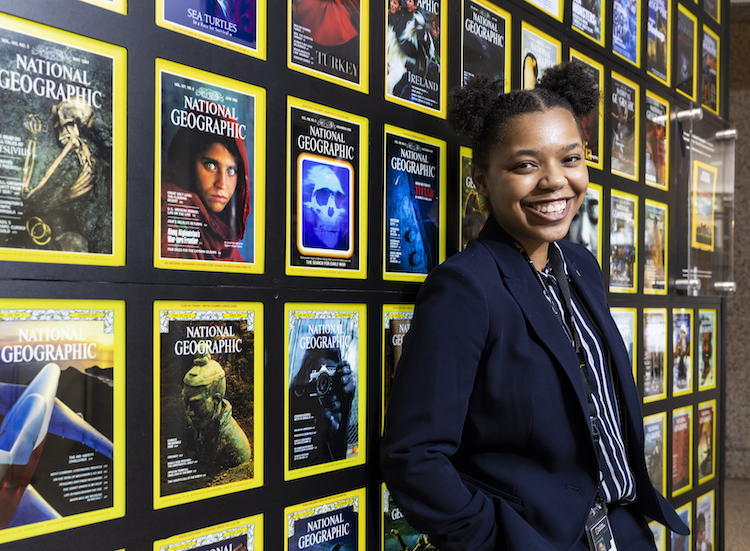 After a childhood diagnosis of dyslexia and eye convergence problems, Sonja Phillips-Thomas turned to movies, television and music.
She loved stories "but reading them was tiring for me," said the George Mason University senior. "Movies, television, and music were ways I could enjoy stories in a less tiring way."
Now Phillips-Thomas is majoring in both film and music at Mason's College of Visual and Performing Arts (CVPA), and she hopes to utilize both disciples to fulfill her love of telling stories.
"The idea of making the representation I want to see means a lot to me. I can create the worlds I wish existed," she said.
Phillips-Thomas was also in guitar ensemble in grade school. "Classical guitar became a part of my life and I loved creating pieces with it," she said.
When Phillips-Thomas worked as an office assistant for Samantha Sinagra, the Film at Mason academic and program manager, Sinagra asked her to create a virtual tour for the program.
"I gave her creative control over it," said Sinagra. "I knew she could put something together using both her passions. She did animation and composed music just for this tour, and it came out great."
In addition to creating the virtual tour, Phillips-Thomas also serves as a Mason Music Ambassador and sees her role as a point of contact for current and potential students.
She also recently scored the film White Mirror, directed by CVPA student Taj Kokayi. The film follows a Black man who has the opportunity to appear White to the world. The question is, does he want this opportunity?
"She's one of the few composers in our program," said Sinagra. "To have a student so skilled in music and film is rare."
"Sonja put in a lot of work and time on the film, and it greatly showed," said Amanda Kraus, a term assistant professor of sound and editing. "I believe her work truly enhanced the overall film and made a difference in the emotional context."
Phillips won Best Film Score at the 2022 Mason Film Festival for her work.
"I tried some different techniques and asked my music professors their thoughts on some aspects of it," said Phillips-Thomas, who also used her own voice for the credit's song.
Phillips-Thomas used a mix of Middle Eastern instruments and synthesizers, she said. "I used phasing/double and countermelody techniques, where you duplicate a vocal take and push the duplicate a little behind the original take to make a wider sound."
"I had never done that with instruments until I saw an example of that in my music history class."
Phillips-Thomas was working at the Mason Film Festival and was happily surprised she got the award, she said.  
"I was a part of the jury that awarded her this award and acknowledged her countless hours of work!" said Kraus. "I think CVPA gave her a place to grow and breathe as an artist. Sonja's work stood out and as a result she was sought out by her classmates to collaborate on projects."
Phillips-Thomas also recently finished an internship with National Geographic Studios.
"I worked under one of the producers, Anna Derryberry, and it was great." she said. "I got to meet other interns at different departments like FX, Hulu, and Imagineers."
Disney, National Geographic's parent company, also gave interns the opportunity to do a 60-second "day in a life" video. During her last week she gave a presentation for National Geographic Studios about all she learned as an intern.
This fall Phillips-Thomas is enrolled in a documentary film class and hopes to film something featuring animals or cuisine. She is also working on a web series and a science fiction book that she hopes to eventually turn into a television or films series.