In This Story
People Mentioned in This Story
Body
The first time Katherine Ashby saw her artwork installed at Gunston Hall, the historic home of U.S. Founding Father George Mason IV, it was surreal.
"I had never done something that felt that important or that had been installed physically," the senior painting major from George Mason University said. "Usually, my work is put online digitally, so it was really a big moment."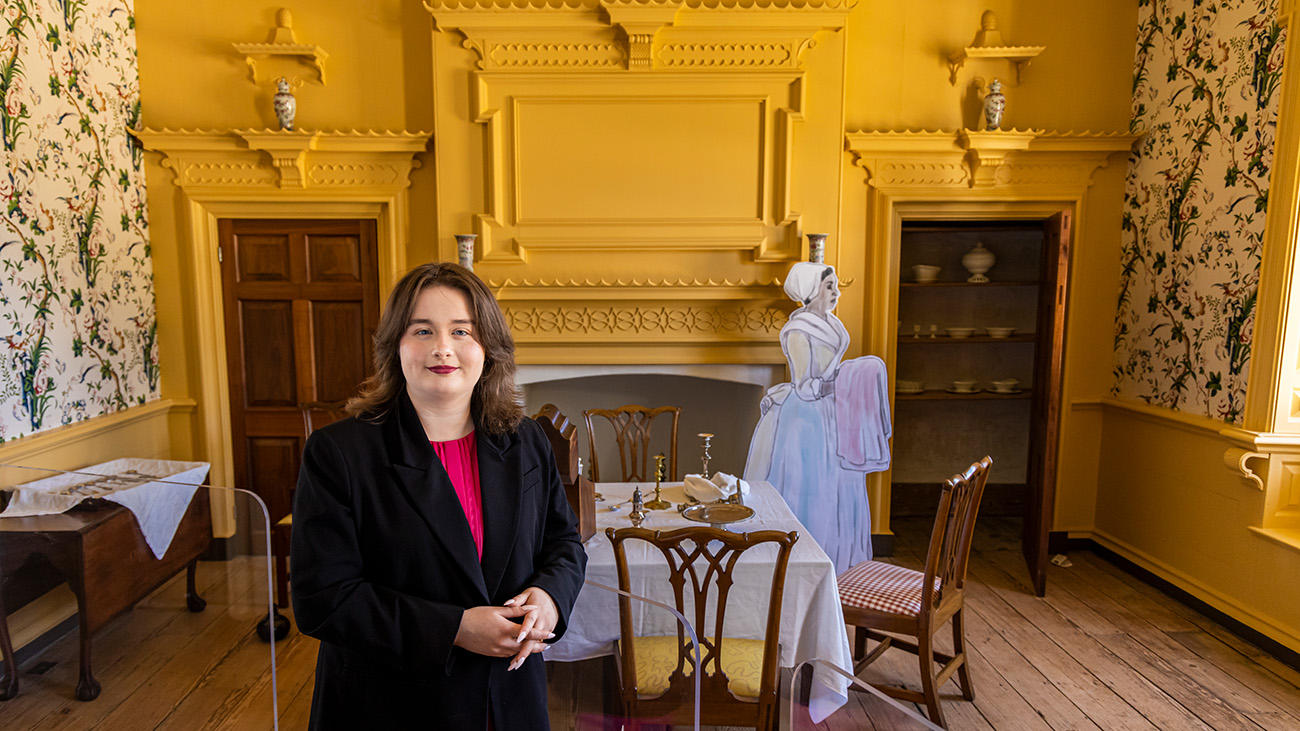 Painting a Critical Narrative
The significance of Ashby's art was both that it was installed in a museum and that it shone a light on a lesser-known narrative of the people who helped run Gunston Hall: the hundreds of people Mason enslaved to run his estate.
"Art speaks not just to the emotions, but to the mind of the viewer," Ashby said. "What we're trying to communicate with this installation was that it was pretty much impossible for anything to really occur without the help of all these enslaved people."
In November 2022, Ashby was commissioned to create life-size portraits of George Mason IV and other people who lived at Gunston Hall, including some of the people held in slavery there.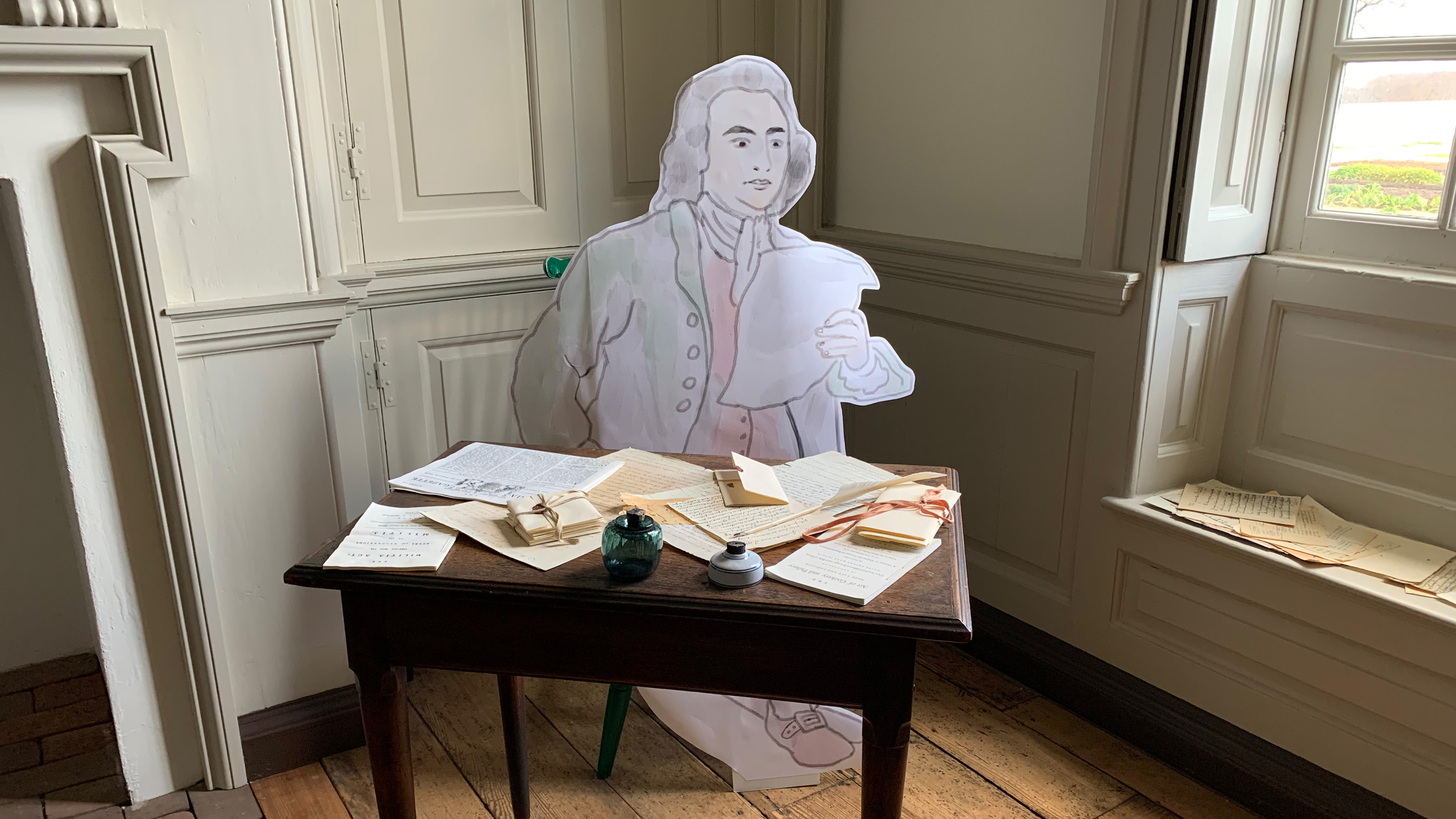 "I asked several people at Gunston Hall about what they knew about the people who worked there and did independent research into the time period, what people wore, and how that was represented in artwork," Ashby said.
By December 2022, Ashby said the portraits, which she created on her iPad using the application Procreate, were ready for Gunston Hall's Christmastide event.
"Katherine Ashby was just delightful to work with," said Rebecca Martin, director of education and guest experiences at Gunston Hall. "She understood immediately what we were trying to accomplish and was so willing to come and visit, to see what we were doing, and to try and make the illustrations do the very best job."
"We hope [visitors] find [the portraits] to be compelling," Martin said. "We find them to be so."
Bringing Ideas to Life
Ashby, who was born in Dallas, Texas, and lives in Fredericksburg, Virginia, said she hopes to become a concept artist, bringing to life the visions of directors, authors, curators, and others with big ideas.
"I settled on painting [as a major] because the required courses really build up to artistic knowledge and technique that is required to be the efficient communicator of someone else's ideas," she said.
Ashby believes Mason's School of Art has helped her grow professionally.
"[Chawky Frenn] is an intense professor, but his standards really push you to a whole new level," she said.
Ashby said she also appreciated comprehensive art history courses taught by Heather McGuire, and how Paul Zdepski gave her a framework for her navigating professional interactions as an artist.
"I believe Katherine exhibits the needed drive to work within the arts for a lifetime," said Zdepski, who told Ashby about the opportunity at Gunston Hall and encouraged her to submit her portfolio.
"Katherine's time management abilities, while executing amazing work, places her ahead of many artists out there," Zdepski said. "The fact that she is able to take up a huge project with a fixed deadline and deliver on-time, if not ahead of schedule, establishes her mystique among those she's worked with."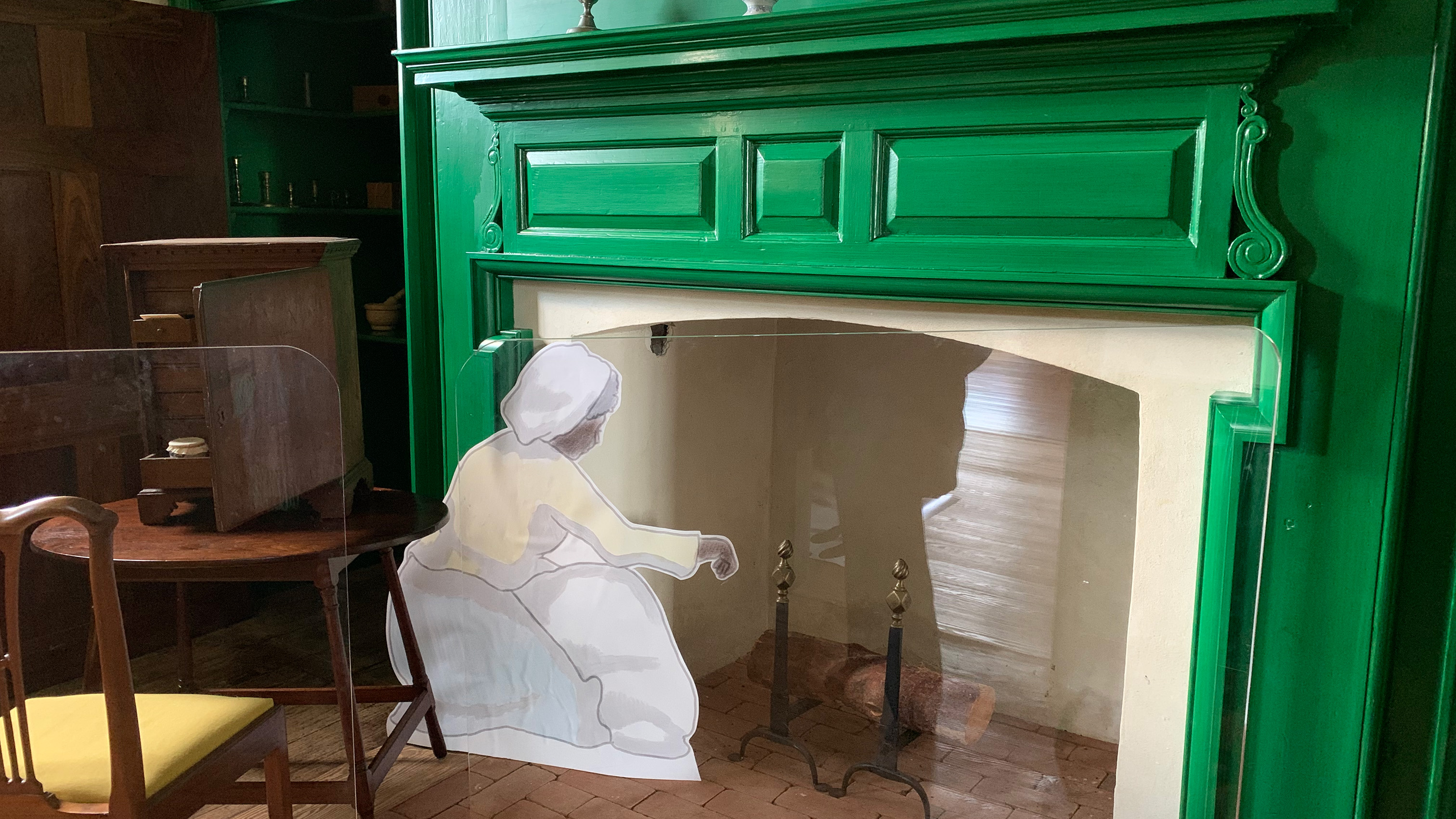 A New Perspective on History
"What I'm most proud of with this project is representing an aspect of history that's discussed to an extent, but perhaps not dwelled on," Ashby said. "It was gratifying to contribute to that dialogue, and it meant I got to think more about this dialogue as well."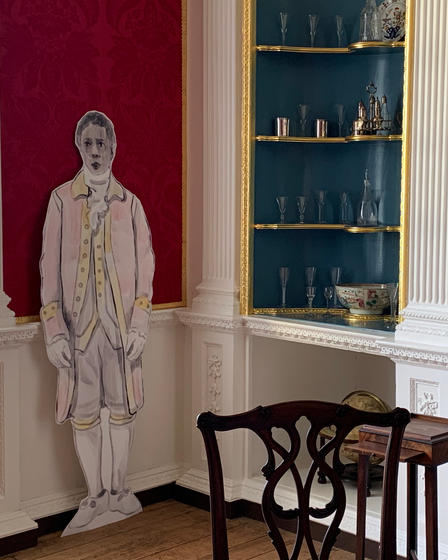 That included critically assessing which lens we use to understand history, she said.
The experience also put into perspective what Ashby had studied in art theory classes on the importance of curation, how works are displayed and what that communicates to the audience, she said.
At Gunston Hall, that depiction is matter-of-fact.
"[When you walk in, you'll see] a depiction of enslaved people working while other people are celebrating,'" Ashby said. "I think that casual depiction is important."
"This was their life," she said. "And there's not really anything we can do about it, except see it for what it was and build upon that for the future."