In This Story
People Mentioned in This Story
Body
Extraordinary teachers shape the future of talented students. Among them is Mason's own Linda Apple Monson, international Steinway Artist and director of the Reva and Sid Dewberry Family School of Music at George Mason University. Her passion, expertise, and commitment to teaching piano have earned her a place in the prestigious 2023 Steinway Teacher Hall of Fame.
The Steinway Teacher Hall of Fame is a distinguished honor celebrating the dedication and passion of the outstanding piano educators of North America.
During her more than 20 years at Mason, which is an All-Steinway School, Monson shared her profound musical insights with gifted students from across the globe. Her influence extends far beyond the classroom, as she has graced stages across the United States, Europe, Asia, Latin America, and Australia with her performances and lecture-recitals.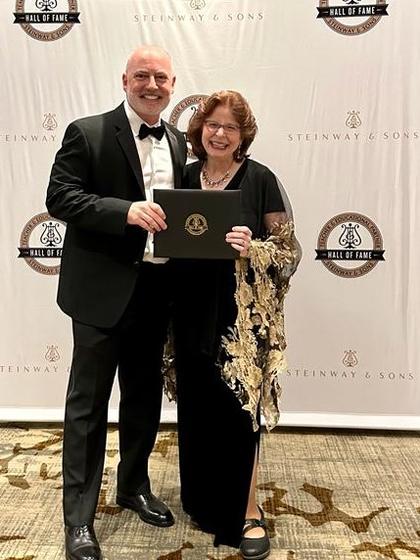 "I am humbled and honored to be inducted into the 2023 Steinway Teacher Hall of Fame. My heart is filled with gratitude for this honor and for the incredible privilege of teaching piano, our beloved art form, to the next generation of artists at George Mason University," shared Monson.
"As an International Steinway Performing Artist, I am particularly honored to receive this additional prestigious award in recognition of my career as a teacher and mentor to my remarkable piano students," she added.
Gavin English, president of Steinway & Sons Americas, expressed his appreciation at the recent induction ceremony in New York City: "Your passionate commitment to teaching and inspiring young people in their study of piano music is commendable and rare. Through your efforts, you help students lay the foundation for a lifetime of musical and artistic expression."
We celebrate Monson's exceptional dedication and role in shaping the next generation of piano artists. Her inclusion in the 2023 Steinway Teacher Hall of Fame is a well-deserved recognition of her extraordinary contributions to music education and piano artistry.