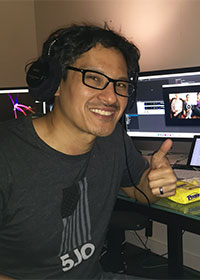 Titles and Organizations
Adjunct Faculty, Film and Video Studies, CVPA
Contact Information
Email: rsanto@gmu.edu
Phone: 703-993-3287
Campus: Fairfax
Building: de Laski Performing Arts Bldg
Room A109E
Mail Stop: 5D8
Biography
Russell Santos is a filmmaker, music video editor, director and cinematographer. 
He recently edited a movie trailer for a film called 1 Angry Black Man, with production and Cinematography by Hans Charles. 
His latest music video collaboration was as an editor for a Lizzo music video called Good As Hell, directed by Alan Ferguson.
His latest commercial project was as a cinematographer and editor for the National Education Association for a movie called Graduation Day. The entire video was shot and edited in Washington D.C.
"I look forward to sharing my experience and knowledge with those wanting to learn more about the art of filmmaking." - Adjunct Professor, Russell Santos
Degrees
B.A., Theater Arts, Old Dominion University