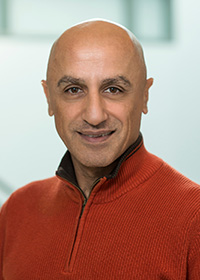 Titles and Organizations
Associate Professor, School of Art, CVPA
Contact Information
Phone: 703-993-2187
Campus: Fairfax
Building: Art and Design Building
Room 2031
Mail Stop: 1C3
Biography
Born in Zahlé, Lebanon, Chawky Frenn lived his formative years in a country that nurtured him not only with paradoxes, conflicts, and delusions, but also with mysticism, spirituality and beauty. He emigratied to the United States in 1981. His preoccupations with mysteries on God and humankind, good and evil, fate and freedom have evolved into humanist concerns on social justice, human rights, political discourse, religious dialects, identity and gender issues.
Frenn received a BFA from Massachusetts College of Art and Design in Boston, MA, in 1985 and completed his MFA at Tyler School of Art of Temple University in Philadelphia, PA, and at Temple Abroad in Rome, Italy, in 1988. He taught at Bridgewater State College in Bridgewater, MA; Montserrat College of Art in Beverly, MA; and Edinboro University of Pennsylvania in Edinboro, PA. He is currently Associate Professor at George Mason University in Fairfax, VA.
Frenn had exhibits in the United States, France, Germany, Italy, Lebanon, and Paraguay. He participated in museum exhibits including the Hoyt Institute of Fine Arts in New Castle, PA; Housatonic Museum of Art in Bridgeport, CT; Erie Art Museum in Erie, PA; Arnot Art Museum in Elmira, NY; and Sursock Museum in Beirut, Lebanon. His work is included in the collections of the Housatonic Museum of Art in Bridgeport, CT, the Springfield Museum of Art in Springfield, OH, and in private collections.
Frenn received critical acclaim by the New York Times, NY ARTS, Art New England, Boston Globe, Connecticut Post, Atlanta Magazine, and Pittsburgh Post-Gazette in the United States, and An-Nahar, L'Orient – Le Jour, and The Daily Star in Lebanon.
Frenn is the author of two books 100 Boston Artists and 100 Boston Painters published in 2013 and 2012 by Schiffer Publishing. His work appeared in 100 Artists of Washington, D.C. by F. Lennox Campello in 2011, Male Nude Now by David Leddick in 2001, and Encyclopedia of Arab American Artists by Dr. Fayeq S. Oweis in 2008. Art for Life's Sake is a monograph on Frenn's work published by Fine Arts Consulting and Publishing S.A.R.L. in Beirut, Lebanon, in 2006.
Degrees
MFA, Painting, Temple University