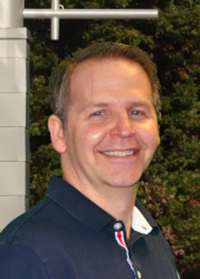 Titles and Organizations
Associate Research Professor, Computer Game Design, CVPA
Contact Information
Campus: Science and Technology, 10900 University Blvd, Manassas, VA  20110
Building: Katherine G Johnson Hall, Suite 147
Email: jenfield@gmu.edu
Phone: 703-993-7179
Biography
Jacob Enfield is a game developer, an educator, and researcher. He earned his Ph.D. in Instructional Systems Technology department at Indiana University; his M.S. in Educational Technology at CSU Fullerton; and his B.S. in Secondary Education at Kansas State University.
Jacob has worked professionally as a game programmer with Edutainment Systems LLC and independently as a game developer creating his own series of games to promote learning of mathematics.
Over the past 20 years, Jacob has taught computer science, multimedia production, game development, VR Production, and mathematics courses at K-12 schools, community colleges, universities, and corporate settings.
Jacob's research focuses on game-based learning and effective educational game design. For example, his doctoral dissertation focused on the effective re-design of the Diffusion Simulation Game following the Ten Steps to Complex Learning ID theory.
Degrees:
PhD in Instructional Systems Technology, Indiana University
MS in Educational Technology, CSU Fullerton
BS in Secondary Education, Kansas State University