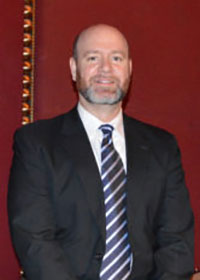 Titles and Organizations
Adjunct Faculty, PERCUSSION, Dewberry School of Music, CVPA
Contact Information
Campus: Fairfax
Building: de Laski Performing Arts Bldg
Room A417
Mail Stop: 3E3
Biography
Originally hailing from New Zealand, Jonathan has been involved in musical pursuits of one form or another since the age of four. While attending the University of Auckland where he completed studies for a Bachelor of Music (Honors), Jonathan was a regular performer with the Auckland Philharmonia.
With the aid of a number of scholarships, Jonathan moved to the United States in 1998 to commence studies with Tom Freer at Cleveland State University. During his studies towards a Master of Music degree, Jonathan performed regularly with many orchestras in the area.
Jonathan has been the Principal Timpanist of the Kennedy Center Opera House Orchestra since 2000. He performs regularly with the National Symphony Orchestra, Harrisburg Symphony, Post-Classical Ensemble, as well as engaging in various chamber music pursuits. He joined the faculty of George Mason University in 2014 as an Adjunct Professor.
Adjunct Applied Faculty
Degrees
BM, Music, University of Auckland