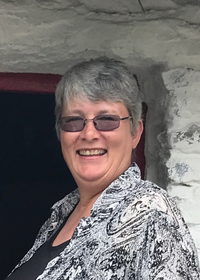 Titles and Organizations
Director, Arts Management Program, CVPA
Assistant Director of Undergraduate Studies, CVPA
Assistant Professor, Arts Management, CVPA
Contact Information
Phone: 703-993-8926
Campus:
Fairfax
Building:
Arlington: Vernon Smith Hall
Room 5087
Mail Stop: 1C8
Email: kdawn@gmu.edu
Biography
Karalee Dawn MacKay has wide-ranging professional experience in performing arts management and production throughout the United States (Broadway, Off-Broadway, regional, not-for-profit, commercial and national tours). She has served as the General Manager of the Signature Theatre Company (NYC), Managing Director of The Jose Quintero Theatre and Cherry Lane Theatre (NYC), and in various capacities at American Stage Festival, Milwaukee Repertory Theatre, Milwaukee Chamber Theatre, Odd Act Theatre Group, Theatre of the First Amendment, Ballet Hispanico, Hartford Ballet, Boneau/Bryan-Brown, and the William Morris Agency, among others.
International work includes serving as the lighting designer and production manager for the play, Winter Under the Table as part of the Festival De Teatro de la Habana International Theatre Festival in Havana and a workshop production with Teatro Los Elementos in the Cienfuegos province in Cuba. In 2011, she served as the producing and marketing director for Odd Act Theatre Group's production of How the Money Goes at the Edinburgh Festival Fringe in Scotland.
Dr. MacKay served as an assistant professor of Arts Management for two and a half years. She recently returned to the area and now serves as an adjunct professor for several classes including the recent summer study abroad courses in The Netherlands, England, and Scotland. In the summer of 2016, Dr. MacKay will lead an immersive course in international performing, visual and literary arts management models and traditions in England and Ireland.
Current research includes international arts management education collaboration and outreach practices and a resource handbook for non-traditional students that are considering or have recently returned to graduate school.
Education
Dr. MacKay is a first generation and non-traditional college graduate. She received her MA and Ph.D. in Theatre History and Performance Studies from the University of Maryland.
Her dissertation, Today We Are All Scottish: The Performance of Self, Community, and Nation at Highland Games and Gatherings focuses on the creation, performance and claiming of Scottish cultural identity and heritage in the United States and Scotland.
Her research has been presented at regional, national, and international conferences, including the American Anthropological Association, Performance Studies International, Northeast Modern Language Association, Mid America Theatre Conference, and the Mid Atlantic Popular/American Culture Association, among others. She has chaired panels at the American Anthropological Association International Conference and the Mid America Theatre Conference.
Publications
An article based on her research, titled "Tartans, Kilts and Clans On Tour: Exploring Issues of Mobility, Heritage and Cultural Homecomings at the Gathering 2009" was published by Cambridge Scholars in the edited volume, Exploring Travel and Tourism: Essays on Journeys and Destinations (2012). Upcoming articles include, "American by Birth, Scottish by Blood:" Staging Scottishness at Highland Games and Gatherings in the USA" for an edited volume (Title TBD) with Cambridge Scholars Publishing (2016); and an article with colleague Dr. Natalie Tenner entitled, "From the Classroom to the Edinburgh Festival Fringe: Inspiring Students, Professors and Audiences on an International Journey of Practice and Creation."
Awards
Dr. MacKay is an adjunct professor in the Master of Arts in Arts Management program at George Mason University where she was awarded the 2009, 2010 and 2012 Faculty Member of the Year Award for Teaching Excellence.
In 2013, the Faculty Member of the Year Award was renamed the Professor Karalee Dawn MacKay Excellence in Teaching Award, in recognition for five years of outstanding teaching and service to the students of the Arts Management Program.
In 2015, Dr. MacKay was nominated for the Career Connection Faculty Award, that celebrates Mason faculty who have made a positive impact on students' career goals, employment plans, or graduate school preparation.
Degrees
BA, Central University of Iowa (Central College); MA, University of Maryland; PhD, University of Maryland, Theater and Performance, University of Maryland