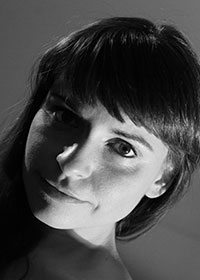 Titles and Organizations
Adjunct Faculty, School of Dance, CVPA
Contact Information
Phone: 703-993-1114
Campus: Fairfax
Building: de Laski Performing Arts Bldg
Room A300
Mail Stop: 3D4
Biography
Kathryn Pilkington, Co-Artistic Director of Company E, is originally from North Carolina, where she received her early dance training from her mentor, Sandra Miller. Graduating with a BFA from The Juilliard School in New York City in 2004, she became a dancer and rehearsal assistant for Contemporary Dance Theater of NY, and Sensedance. She also performed in the Radio City Christmas Spectacular. Since moving to DC in 2005, she has worked with many local dance companies such as DanceSmith, Karen Reedy Dance, and CityDance Ensemble. She co-founded Company E with Paul Emerson in 2011, where she not only dances work by international artists such as Ohad Naharin, Rachel Erdos, Thomas Noone, and the great Paul Taylor, to name a few, but also rehearsal directs and teaches company class.
Since 2008, Kathryn has travelled extensively as a dancer, director, educator, and cultural ambassador to over 10 countries and three continents through the State Department. Because of her knowledge and experience and the success of these programs abroad, she assists Mr. Emerson in a guest course for Foreign Service Officers on cultural diplomacy at the US Department of State's Foreign Service Institute.
Ms. Pilkington has collaborated with Paul Emerson in the creation of many works. One of note, about the Iraqi refugee populace, took Kathryn and Paul to the middle-east for in depth research and personal interviews, and has since been shown in the United States Capitol – the seat of the US House of Representatives and US Senate. Her work in film brought her to the rainforests of Peru and the streets of Shanghai in 2011.
Kathryn is an ACE certified personal trainer and trains both individuals and groups out of Dynamic Living studio in Arlington, VA.
She resides in Annandale, Virginia with her husband, Geoffrey, and son, Gavin.
Degrees
BFA, Dance, The Juilliard School