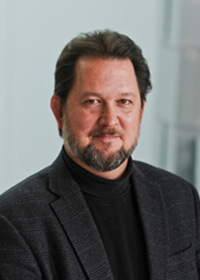 Titles and Organizations
Professor, Computer Game Design Program, CVPA
Founder and Previous Directors of the Virginia Serious Game Institute (VSGI) & Computer Game Design Program
Associate Editor, International Journal of eSports Research (IJER), IGI Global
Contact Information
Phone: 703-993-4574
Campus: Fairfax
Building: Art and Design Building
Room 2020
Mail Stop: 1C3
Biography
Dr. Scott M. Martin is an inventor, mentor, educator, entrepreneur, and author. He is a Professor of Game Design & Technology, and was the founding Director of the Virginia Serious Game Institute (VSGI), and founding Director of the Computer Game Design Programs at George Mason University in Fairfax, Virginia. Dr. Martin earned undergraduate and graduate degrees from Johns Hopkins University, and his doctorate degree from the University of Maryland, College Park.  
For the past seven years, Dr. Martin's research focus has been designing new technological solutions and deep-learning algorithmic reasoning models applied to improving human cognitive capacitance, combining the fields of data science and the social sciences of human knowledge acquisition. He also recently developed a new autonomous AGI teaching super-system, blockchain algorithm paradigm designed to secure and protect online user datasets, and a new AI-core game development engine design. His research work has resulted in multiple U.S. PTO patent applications, global public presentations, and several recent publications including the books, Serious Games in Personalized Learning: New Models for Design and Performance, Routledge, 2021, Artificial Intelligence, Mixed Reality, and the Redefinition of the Classroom. Rowman & Littefield, 2019 (June), and the chapter Creating personalized learning using aggregated data from students' online conversational interactions in customized groups in: Learning Engineering for Online Education, Routledge, 2018. 
In the last 30 years, Dr. Martin has taught courses on the undergraduate and graduate levels as distinct as philosophy, theory, and criticism, music composition, business entrepreneurship & management, acoustics, engineering, and software programming. Dr. Martin has founded multiple institutes, research centers, schools, and businesses, and he is also the founder of PSTH LLC, a business consultancy, and most recently Elluminai Labs LLC, an autonomous teaching & training framework software venture.  
Degrees:
DMA, Music, University of Maryland
Undergraduate and Graduate degree, Johns Hopkins University