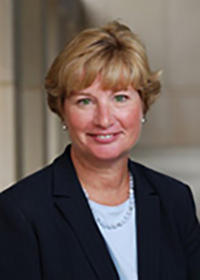 Titles and Organizations
Associate Dean, Emerita, Graduate Studies, CVPA
Adjunct Faculty, Arts Management, CVPA
Chair of the Arts at Mason Board (AAMB)
Biography
Dr. Salmon is Associate Dean, Emerita, Graduate Studies, College of Visual and Performing Arts, George Mason University. She retired May 2014 from the position, but continues her work supporting CVPA. Fall 2019, Dr. Salmon was appointed Chair of the Arts at Mason Board, after serving several years as a director and member of the Development Committee.
Dr. Salmon is also adjunct faculty for the Arts Management Program, teaching AMGT 795 Capstone. Her teaching philosophy centers on the process of writing, breaking down capstone projects, theses, and dissertations into manageable components. Her graduate students have been successful in achieving their degree goals since 1998.
Dr. Salmon's commitment to the College of Visual and Performing Arts began, May 2007, after having received her doctorate from George Mason and having served in senior administrative positions at two other GMU colleges. She was asked to establish the CVPA Graduate Studies office to develop additional degree programs and to develop procedures and protocols to coordinate College level activities with University graduate procedures and policies. Working with faculty, Graduate Council, and the State Council of Higher Education for Virginia (SCHEV), she developed proposals that resulted in the creation of several new graduate degrees: PhD in Music Education, Doctoral of Musical Arts, Master of Arts in Graphic Design, Master of Arts in Computer Game Design, and three graduate certificates (Theater, Music Education, and Art Education. After retirement, Dr. Salmon continued to work with the Provost's Office and SCHEV to merge the MFA in Art and the MFA in Dance into a more inclusive degree program for the College: the Master of Fine Arts in Visual and Performing Arts. This terminal degree may serve multiple CVPA disciplines.
For over seven years, she led the growth of CVPA Graduate Programs to improve their scope, sophistication, and academic rigor: admissions procedures, enrollment targets, retention, and recruitment development. In addition to the new degree programs noted above, she managed interface with the SCHEV academic reviews on current degrees: Master of Arts in Art Education, Master of Fine Arts in Art and Visual Technology, Master of Fine Arts in Dance. To promote creative scholarship and professional recognition in the CVPA disciplines among faculty and graduate students, she created the colloquy course for all CVPA graduate students, so that graduate students and faculty could share their creative scholarship with members of the College community at a professional level.
After her decision to retire in the spring of 2014, the Dean of the College of Visual and Performing Arts proposed, and the faculty of the College, and the Board of Visitors of the University approved, her designation as an Associate Dean Emeritus. In addition to this honor, the University established and endowed the Victoria N. Salmon Outstanding Graduate Student Award, for College of Visual and Performing Arts. These are two recognitions of which she is most proud. Since her retirement, Dr. Salmon continued to work with the School of Music and the School of Dance to increase financial support for their programs.
Dr. Salmon coordinated the academic design of graduate and doctoral programs with a priority to integrate the scholarship of teaching and learning with graduate professional development and training; supervised the administrative aspects of graduate and doctorate programs; managed graduate admissions, student advisory responsibilities, and administrative process; structures opportunities to contribute to doctoral programs for teaching in disciplines; participated in CVPA foundation activities to promote understanding, interest and growth of key programs; contributed to CVPA international outreach initiatives; and lead faculty professional development initiatives, including working with CVPA faculty to enhance the curricular and intellectual structures of CVPA through the advancement of the ideas and practices of the scholarship of teaching and learning.
She was also affiliate faculty for Mason's Higher Education Program and served as Chair for several dissertation committees. She was a member of the MAIS Executive Committee and served on their students' theses committees. She taught the thesis course for MAIS for four years. She served as a juror for International Society for the Scholarship of Teaching and Learning, Conference Proposals (2009-15). Presentations include work with her colleagues in the School of Dance: "Scholarship of Teaching and Learning in the Arts: Collaboration among Faculty and Students." She continually presents to The Command and General Staff College in Ft. Belvoir VA on the topic, "Academic Writing for Professionals." She presented "Reviewing the Past and Anticipating the Future: The Arts and International Relations" at the International Studies Association, New York, February 2009.
Dr. Salmon has made numerous lectures and presentations on composition theory and thesis and dissertation writing; she has taught over 200 students how to write their theses or dissertations. She presented, "Graduate Student Writing, the New Wave/Genre," at the College Composition and Communication Conference, March 2009. "Preparing Future Faculty" is a chapter in the Academic Cultures (MLA, December 2008). In addition, her essay "Educating with Rita" connects film and composition theory and appears in Cinema-(To)-Graphy,(Boynton/Cook Publishers). She has published other essays, including "Chaos Theory and the Community College Composition Classroom" and "The National Center for Community College Education: A Doctoral Program with Difference." Additional works are pending publication.
Dr. Salmon earned her Doctor of Arts from George Mason University in 1997. Her doctoral thesis, "Seeking Authority in Composition theory: Leadership from the Community College Classroom," received recognition in the 1998 CCCC James Berlin Memorial Outstanding Dissertation Award competition.
In addition to her work at GMU, she earned a B.A. and M.A. in English from Georgetown University. Dr. Salmon served on Georgetown University's Board of Regents for six year, three as Vice Chair of the Board, coordinating the Regents' three Task Forces: Undergraduate Learning Experience, Research and Science, and Inter-religious Dialog. She also served on Georgetown University's College Board of Advisors for four years.
Dr. Salmon and her husband of 49 years live in Alexandria VA; they have three children and nine grandchildren.
Degrees
Doctor of Arts, George Mason University
MA, English, Georgetown University
BA, English, Georgetown University