In This Story
People Mentioned in This Story
Body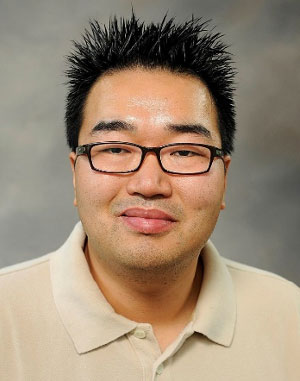 This interview was conducted at the request of Forbes Russia, which will publish it in translation this summer.
Sang Nam teaches technology-intensive courses in Computer Game Design. He holds an MFA in electronic integrated arts from NYSCC at Alfred University and a BA in interdisciplinary computing and the arts and a BS in molecular biology from the University of California, San Diego. Nam has explored new possibilities when art and technology merge, and his work has been exhibited worldwide, including the US, UK, South Korea, and Hungary. Nam has also pursued research on the scholarship of teaching and learning, and has been selected as 2010 National CASTL Teaching Scholar, 2010-2012 Elon CATL Teaching Scholar, and 2008 Wisconsin Teaching Fellow.
What attracted you to Computer Game Design?
I always wanted to do something that would let me use my collective knowledge from many areas. To work in computer game design, you have to become a facilitator who knows how to use all sorts of technology, acquired knowledge, and philosophy of art. You combine all this to create a multimedia product to entertain people while educating them. You might enjoy making really fun, commercial games, but it's also very gratifying when your game can actually touch many people's hearts and lives. That's why I chose to work in computer game design, especially the serious game industry.
What do you mean by "serious" games?
Serious games are not just for entertainment, but serve society with a better purpose. For instance, USAID gave us a grant to create an educational game for girls in India to teach them about fertility awareness and family planning. Sometimes it's hard to talk about those issues in their society, so instead of teaching them through lectures, we made a game for them and let them play. Here in Virginia, we're going to use virtual reality to create a new surgery training system, so that doctors can actually they can get training through virtual reality.
What opportunities do you offer your students?
Our graduate students work as research or teaching assistants, and with people in the Virginia Serious Game Institute. At VSGI, we have many start-up companies that specialize in serious games. If you come to Mason, you interact with game professionals and get to know how a small start-up game studio operates. You learn a lot and work with many external clients at the same time. As a graduate student, you might also work as a project manager for a faculty member, or sometimes you can be your own project lead. All of our graduate students are working on specific, real-world projects with real clients. They can list those projects on their résumés to attract more employers in the game design industry. Virginia Serious Game Institute is the only serious game institute in the world. It's well recognized for having produced many serious games in the field. Because of that, we partnered with the Tencent game company, the biggest game company in the world, to create lesson plans for children using Roblox. We train game designers and developers, and then many of them realize the true value of using games to educate young minds.
What excites you most about teaching?
It's always been my passion to share what I know. And in computer game design, everything changes all the time. Sometimes I get excited about this new technology, and I become an early adopter. Then I try to share what I learn with my students. We don't have time to get bored. The field is expanding, even as we speak. There's always going to be change, and there will always be new things we can talk about. We try to facilitate this transfer of knowledge by exploring this new technology together. If you join our Computer Game Design program as graduate student through INTO Mason, you become a "co-inquirer" with me, exploring new technology in a new field. Sometimes I'm really surprised by students' work. When they get excited about this new technology—and have the freedom to explore by themselves, with support from me—they can create really great things.
What makes Mason's Computer Design Program different from others?
Our computer game design program is part of the College of Visual & Performing Arts, not an engineering or computer science program. We offer a computer game design degree because we teach our students how to design people's experience of the games we create. We try to think like a theater director would, using all the mechanical or electronic tools we have to create this product, and we also think about how people will use it. Our focus on design makes our program unique. Because we specialize in serious games, our students can go into the computer game design and development industry, or education, or other technology-related fields. Many find true value in designing games that create a positive impact in the world. My bold prediction is that in the near future, more companies will hire game designers because we specialize in thinking about how we can use games for many purposes.
What do you expect from an applicant to your program?
If you join our program, we want you to have some basic knowledge of different elements. You can focus on one aspect of computer game design, but we offer a very strong liberal arts education at George Mason University, so our students learn how to do a little bit of everything and then focus on their strengths. If you want to do graphic arts, you can learn how to do 3-D modeling and 3-D animation. But, you can also work in other areas, such as musical composition or creative writing.
If you're ready to learn and willing to put 100% into this program, we will be more than happy to help you. We look for a good story in each application. If you can write about yourself and why this degree is critical to your becoming a better computer game designer, we'll read that story. Don't hesitate to contact us, if you have questions. Visit our website, where you'll find all the information you'll need, including a link to the Virginia Serious Game Institute. From there, you can explore all of the interesting things we're doing at George Mason.
---
Professor Nam was interviewed by Steven Harris-Scott (Assistant Director of Graduate Education and Faculty Affairs at INTO Mason) and Kristin Johnsen-Neshati (Associate Professor of Theater/Assistant Dean, CVPA).