In This Story
People Mentioned in This Story
Body
Ying Wang wanted to help kids protect themselves from COVID-19, so she designed an app to do just that.
Wang designed the augmented reality (AR) game as part of an independent study project in George Mason University's Computer Game Design Program. She developed the concept and created 2D and 3D child-friendly animated characters.
"I did my research before creating this app, and there is no AR app that shows little kids how to protect themselves from the virus," said Wang, who earned a BFA in computer game design in May from the College of Visual and Performing Arts.
"My goal is for kids, after playing my app, when they are wearing masks and playing outside with their friends, they will suddenly remember—this bear in the AR app told us not to touch our mask once I put it on," said Wang.
Wang's AR app helps children deal with COVID-19 by providing some instructions about practical things like social distancing, wearing masks, and practicing basic hygiene, such as hand washing.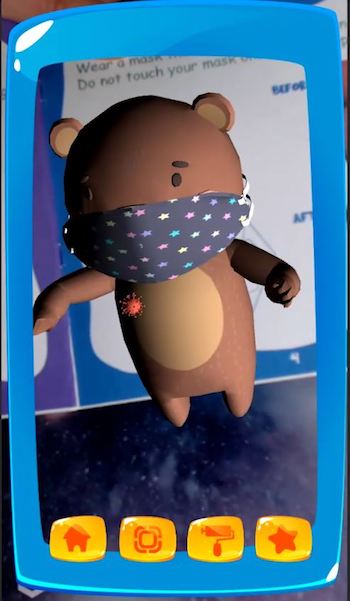 "I try to support students' creativity to utilize game technology to create a meaningful product," said Sang Nam, director of Mason's Computer Game Design Program.
Nam said parents are often hesitant to allow children to play video games because they feel some games can be harmful, addictive, and violent.
"We want to prove that if you use game technology right, we can actually educate our children with more highly engaging content," he said.
Although the COVID-19 vaccine is available for those age 12 and older, it has not yet been approved for younger children.
"There are still things that we can do to for kids under 12 years old to be aware of how to protect themselves," said Wang, who hopes to upload the app to Google Play.
Nam said that coronavirus can be a hard topic to approach, and people often avoid it because of the dangers associated with the virus.
"I look at this app as positive reinforcement that actually teaches them about the virus," Nam said. "Ying has a bright future as an app developer and a game designer and developer."
Wang, who was a student in Nam's GAME 399 Augmented Reality and Virtual Reality Design course in Fall 2020, said she's proud to see her app come to fruition, and she encourages children to do their own part to overcome this pandemic by following the simple steps featured in her app. A preview of the app is available for viewing.
Nam said there are many ways to educate children about this virus, but sometimes it can be boring. "But by using this type of interactive, highly engaging app, students can learn and obtain the knowledge about coronavirus easier, and we hope children will want to play more and more. Then they can sustain that knowledge longer."
Topics