Body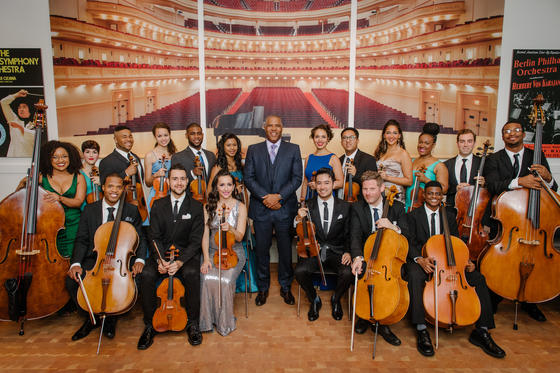 In what ways can a classical music ensemble build resonance and relevancy in modern society?
Sphinx Virtuosi, the Center for the Arts's second Artist-in-Residence of the 2021/2022 season and one of the nation's most innovative and pioneering chamber music ensembles, tackles that issue with a two-pronged approach.
First, the self-conducting ensemble consists of 18 classically-trained Black and Latinx soloists, crafting an incredibly diverse group of musicians. Sphinx Virtuosi is proud to amplify the plethora of talented composers shaping the sound of American classical music today, including Jessie Montgomery, Carlos Simon, Xavier Foley, Andrea Cassarubios, and so many others. Further, Sphinx engages contemporary composers in annual commissioning projects and is dedicated to uncovering and programming works by composers of color from the past.
Second, Sphinx Virtuosi believes that education and community is vital to their mission. During activities in Northern Virginia as Artists-in-Residence, the musicians from Sphinx Virtuosi will be able to flex both muscles, providing both learning experiences for those they interact with as well sharing a communal love of music.
Their dynamic program Tracing Visions on October 17 at 3 p.m. at the Center for the Arts stretches beyond usual notions of the classical music canon with a vibrant program of music by women and composers of color. Sphinx Virtuosi hopes that audiences leave their performance with a sense of belonging, personal discovery, and a connection to their mission of transforming lives through the power of diversity in the arts.
Members of Sphinx Virtuosi ensemble will be participate the following week in educational and artistic activities across Northern Virginia. Mason students will have an opportunity to participate in lectures, select classroom visits, and masterclasses in Strings and Symphony Orchestra. In addition, Sphinx Virtuosi plans to visit several local schools, including Halley Elementary, Garfield High School, Osborne High School, and Unity Reed High School. Finally, the residency will conclude with a Center for the Arts donor event reflecting on their residency and community impact.
The Center for the Arts connected with President and Artistic Director of Sphinx Virtuosi Afa S. Dworkin to learn more about their mission and upcoming program Tracing Visions.
Please tell our readers a bit about what they can expect at your performance at the Center for the Arts?
Dworkin: They may expect to delight in a collection of works that may not be readily recognized. We focus on sharing the vibrant and important voices of living composers, with an emphasis on those of Black and Latinx heritage. Tracing Visions challenges the listener to open their hearts and minds to new sounds, learn about important historical and present-day composers of color, find joy in new sounds and experience a connection to what is traditionally heard as classical music. Visually, it is a compelling array of virtuosity by the nation's most dynamic professional ensemble of artists of color.  The audience can also expect to hear the artists speak to the curation of the program, what it means to them and why they chose to share this music today.
What do you want patrons to come away with after taking in the performance?
Dworkin: A sense of belonging, a sense of personal discovery, and a connection to our mission of transforming lives through the power of diversity in the arts. We hope that each patron may relate to the music they hear, connect to the artistry of the Sphinx Virtuosi, and support the concept of promoting artistic excellence through inclusion and diversity. We hope to change hearts and minds through a common language that unifies all of us.
The past 18 months have changed all of our lives. How has the pandemic changed the Sphinx organization and its mission? How will your residency and performance at the Center for the Arts reflect those changes?
Dworkin: Our artists were silenced by the twin pandemics of our time, literally and figuratively. This period called for reckoning, but also, unity, resilience, innovation, and collaboration. Sphinx pivoted its programming to the digital space, by using technology to have the voices of our artists be heard across the world despite the isolation. Our artists have been driven to express their sorrow and courage by showing resilience, commitment, and a sense of hope for a brighter tomorrow. This is a poignant moment that resonates with the pain of yesterday and the present day while also shining a light upon what a more just and equitable future may look and sound like. We are excited to share our vision with our audiences.
Is there a process for crafting an interpretation of the music Sphinx performs? How do [musical] interpretations change as political climates shift and new social movements emerge?
Dworkin: We focus on social impact and the philosophical role of this collection of citizen artists. Ours is a unique mission, which combines a sense of service, commitment to our communities as well as our artistic pedigree. We express these sentiments by architecting programs that are reflective of our times, with all of its challenges and all of its promise.
What part does education take in Sphinx's mission? How can audiences continue to engage with Sphinx and its mission after the performance?
Dworkin: Education/creative youth development is one of the four central pillars of our programming. We serve and educate our youngest members of the family through a variety of programs. Patrons can find more information about staying involved by joining our email list, learning about advocacy opportunities, or by donating via our website.