Body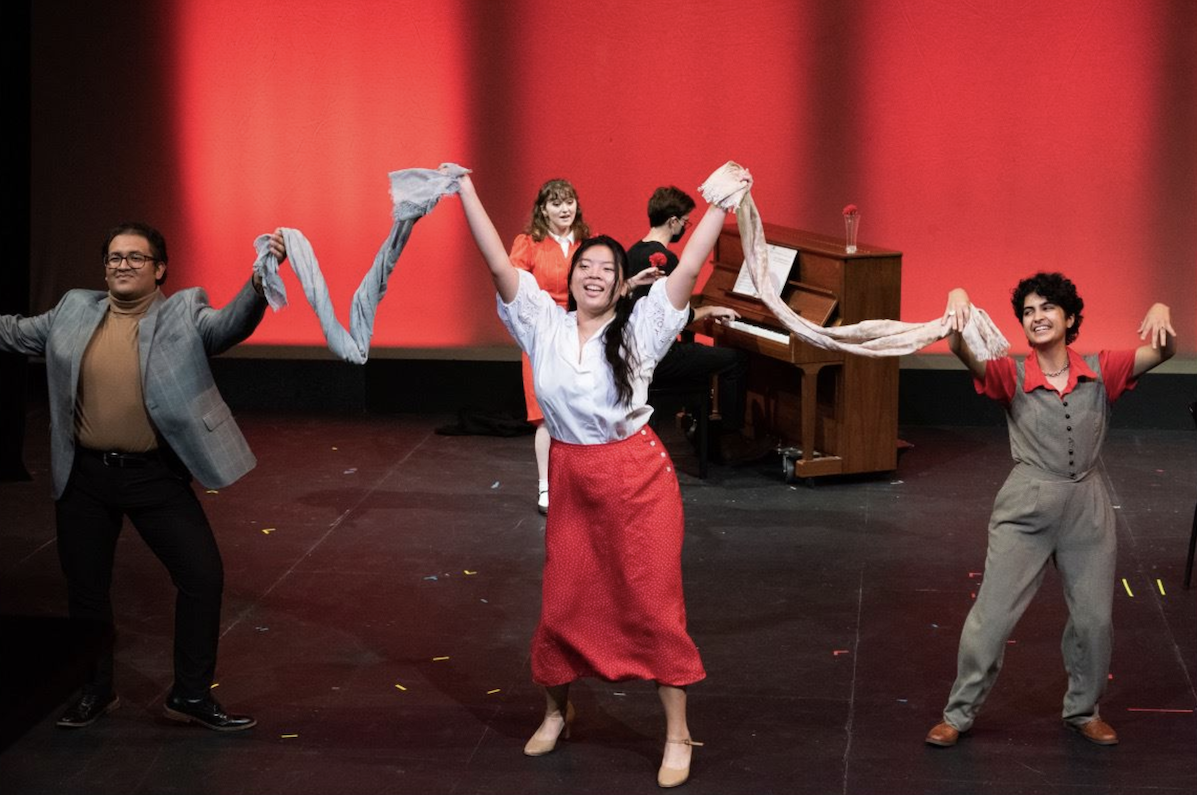 "The Originals" is magical for both its stories and for the student-driven performances, said George Mason University adjunct professor and playwright Frank Robinson Jr., co-director of "The Originals."
Mason's School of Theater and the Mason Players are presenting "The Originals" this week—a collection of new work featuring the school's talented student playwrights. Mason creative artists have the opportunity to share their work in a variety of forms—a one-person show, a choreographed work, or the traditional 10-minute play structure.
This year's program includes six plays: four multi-character 10-minute plays, a one-person show, and a musical, with a mix of themes including romantic, futuristic drama, and absurdist.
"I love 'The Originals,'" said Jessica Singley, a senior theater major. "It's probably one of my favorite parts of the Mason theater season every year."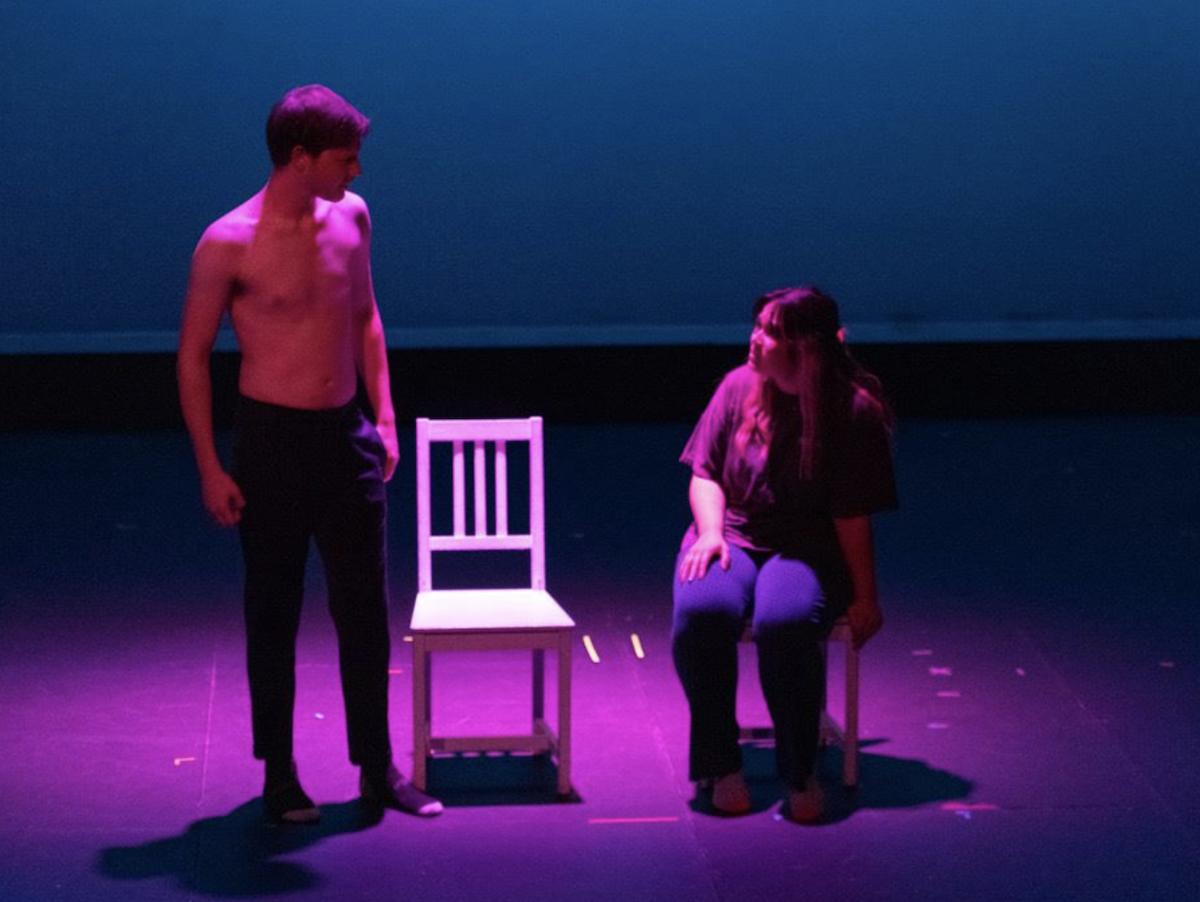 This annual event happened over zoom last year, with each of the actors in their own homes. The last full production with a live audience was two years ago in 2019. This year's performances were recorded before a reduced audience, dictated given the pandemic, which included faculty mentors and student designers and directors, who filled a few seats and cheered the students on.
The performance will be available to the public to watch online starting at 8 p.m. Friday, Oct. 8, on the Center for the Arts Facebook page and YouTube channel. The recording will be available to watch through Oct. 16.
"Theater has changed irreparably as a result of the pandemic," said Robinson, who teaches playwrighting in the School of Theater. "With professional actors, as well as student actors and our student playwrights, part of the reasons you do theater is for that interaction with your audience."
Robinson said that as students prepare for hybrid audiences, both remote and in-person, they have to think outside the box. "The challenge is also the payback," he added.
Singley's 10-minute play, "Someone Has to Leave First," is loosely inspired by a Richard Siken poem "The Worm Kings Lullaby," she said.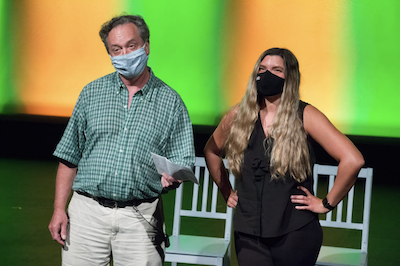 Mason alum and adjunct professor April Brassard serves as faculty mentor and co-director for "The Originals."
"All of these students bring such rich life stories, and all of their pieces are really open-hearted," said Brassard, who graduated from Mason in 2012 and also teaches playwrighting. "There's a ton of talent and passion for the craft from young up-and-coming voices."
Senior theater major Brooke Kemph said she worked closely with Brassard in the playwrighting course where her play, "Struggling at the Bottom of the Pool," originated.
"The piece explores this relationship between two people," said Kemph. "I really wanted to explore the concept of toxic relationships that people can find themselves stuck in."
Drake Leach and Brandon Morris collaborated to create a musical titled "Yet." Leach is a senior musical theater major and lyricist for this show, and Morris is a junior musical theater major and composer for this show.
"The premise of 'Yet' is a man waiting for his son to come up and discuss a plan to move into assisted living," said Leach. "While doing that, he reminisces about the past, and in doing so, vividly imagined it so that it takes up his reality."
"We started in a different spot in the beginning," said Morris, who took Robinson's playwriting class. "In some cases, the story influenced the music, and in other cases, the music influenced the story."
Leach said they were both inspired by the work of their peers who were able to explore different types of characters in the musical.
"Working with your peers is great, and helps to build connections," said Isabella Panciocco, a junior majoring in theater. "I have watched the show grow, and it feels magical."
"It's a supernatural coming-of-age story," Panciocco said her play, "The Moon is Changing and So Are We," which focuses on a man who thinks he was bitten by a werewolf. "It's a story about how to deal with change and growing up, and how the world around you is changing. Sometimes you kind of feel stuck."
Brassard noted that the production is a huge plus for the students, particularly for those who wrote the plays. "A lot of universities don't give students that kind of launching pad," said Brassard.