In This Story
People Mentioned in This Story
Body
The '1st Social Impact Digital Art Contest' hosted by George Mason University Korea, a member of the UN Global Compact, and sponsored by NCsoft, Gen.G Global Academy (GGA), Game Culture Foundation, and Square One is the UN's 'Sustainable Development Goals' (SDGs)' is an event prepared to raise public awareness.
The event focused on raising public consensus on social issues in the Corona era and finding solutions using the interactive and storytelling elements of digital media.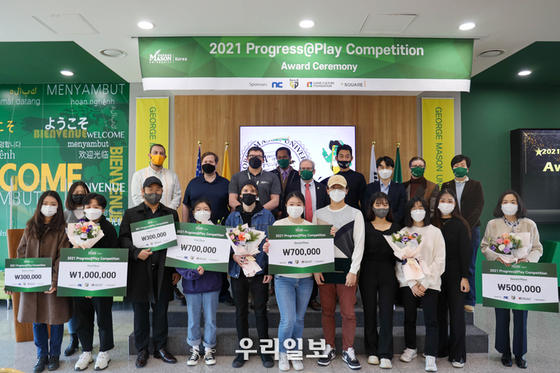 The works submitted to this contest, with total prize money of 4.6 million won, consist of computer games, animations, comics, drawings, and illustrations that provide solutions to social issues in each field.
The works that went through the fierce first screening were exhibited in a gallery in Square One, Yeonsu-gu, Incheon, and were evaluated by citizens and judged by experts.
The judging was conducted by Jared Bruhn and John McGrew, professors of Computer Game Design at Mason University Korea and external experts in the field."
The content of the evaluation was evaluated based on social value, completeness, workmanship, and originality, and the first to third places were selected in high school and college divisions, respectively.
In addition, popular awards in each category were selected through a citizen vote held at the exhibition hall.
Si-yeon Park (2nd year student at the Department of Creativity Soft) from Sejong University's BHP Team, who won the top prize in the college department, said, "I made the work 'With' in hopes that someone will agree. I believe that content can change the world, and I will make better works in the future."
Robert Matz, president of George Mason University Korea, said, "Through the creative ideas presented by students, it was interesting to see how popular culture can be used for better education and society. I hope it will serve as a good opportunity to raise public interest in social issues."
Meanwhile, Guan Wang, president of Gen.G Global Academy (GGA), which sponsored the event, said in an encouraging speech, "This contest is a good example of converting students' interest and passion for games into social contribution." "Korea We are delighted to be collaborating with George Mason University to organize this contest. I hope we can continue to collaborate more in the future."
This article originally appeared in Woori Ilbo (South Korea) and has been translated into English.