In This Story
People Mentioned in This Story
Body
The LIVE Center Mentoring Series is a new initiative from The LIVE Center within George Mason University's College of Visual and Performing Arts that connects some of the biggest names in the performance world to students around the country.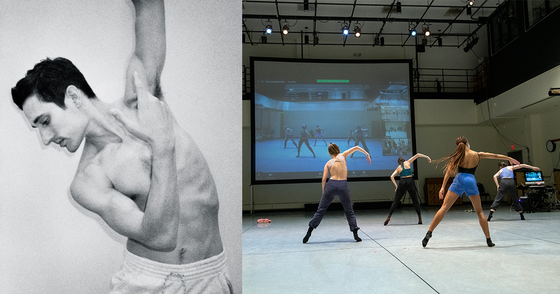 The first event of the Series features Tony Award-winning choreographer, director, filmmaker, and dancer, Justin Peck, from 12:30 p.m. to 2:00 p.m. on Monday, April 25, 2022. This event will be produced and streamed live using the LIVE Center's Window Wall projection technology and Zoom from the National Dance Institute Center for Learning & the Arts (New York City, NY), to participating students at Mason's School of Dance (Fairfax, VA) and the Baltimore School for the Arts (Baltimore, MD). The class will be moderated by Mason Heritage Professor of Dance and founder of The LIVE Center, Christopher d'Amboise. Funded in part by a $10,000 Grants for Arts Projects award from the National Endowment for the Arts (NEA), this is the first of three events planned for this series in 2022.
With the accompaniment of two dancers, Peck, who is Resident Choreographer of New York City Ballet and has choreographed countless projects for stage and screen including Steven Spielberg's adaptation of West Side Story (2021), will lead a conversation with students on the differences between choreographing for film versus live performance, and will instruct students on some of the vocabulary developed around his choreography for the film.
Justin Peck is a Tony Award winning choreographer, director, filmmaker, and dancer based in New York City. He is currently the acting Resident Choreographer of New York City Ballet.  Peck began choreographing in 2009 at the New York Choreographic Institute.  In 2014, after the creation of his acclaimed ballet Everywhere We Go, he was appointed as Resident Choreographer of New York City Ballet.  He is the second person in the institution's history to hold this title. As a performer, Peck has danced a vast repertoire of works by George Balanchine, Jerome Robbins, Alexei Ratmansky, Lynn Taylor-Corbett, Benjamin Millepied, Christopher Wheeldon, and many others. Peck has created more than 40 dances—over 20 of those for New York City Ballet.  Peck has worked extensively as a filmmaker.  In particular, his focus has been exploring new innovative ways of presenting dance on film.  Peck choreographed the feature films Red Sparrow (2016) starring Jennifer Lawrence and directed by Francis Lawrence; and West Side Story (2021) in collaboration with director Steven Spielberg.
Christopher d'Amboise is currently a Heritage Professor in the School of Dance at George Mason University. Born into a family of dancers, he became a principal dancer in the New York City Ballet, and from 1990 to 1994, he was the artistic director, president, and CEO of the Pennsylvania Ballet. He also has a passion for musical theater and performed in the Broadway production of Song and Dance, which earned him a Tony Award nomination for Best Featured Actor in a Musical.
Developed to expand the reach of The LIVE Center's groundbreaking virtual instruction technology and the connections it makes possible, The LIVE Center Mentoring Series is a new project that offers direct access to exciting classes and conversations with globally recognized artists, choreographers, and performers. Additional events will be scheduled for Fall 2022, and interested organizations are encouraged to contact the College to discuss potential participation.