Body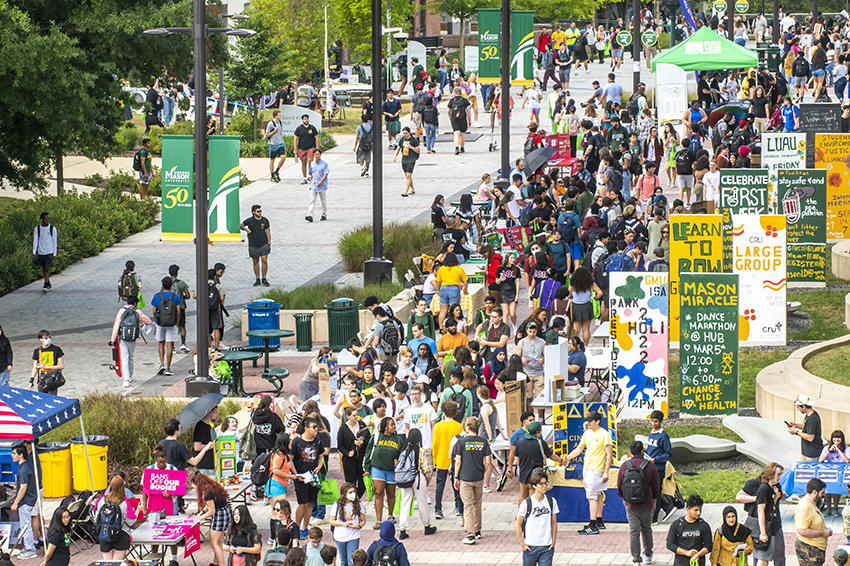 George Mason University is among the top 10 most diverse and innovative public universities in the country, as well as top 10 in undergraduate cybersecurity, according to U.S. News & World Report's "2023 Best Colleges List" rankings released Monday.
Mason jumped five spots to seventh nationally for diversity, and moved up one place to eighth nationally and first in Virginia for innovation. Mason remains first in Virginia for both categories. The undergraduate cybersecurity program jumped to 10th nationally among public universities, up from 15th.
In addition, Mason moved up three spots in the overall rankings to 64th among public universities.
George Mason University President Gregory Washington said the three top 10 rankings and other U.S. News recognition acknowledge that Mason, with an enrollment nearing 40,000, is an institution that equally values providing opportunities, through the Mason Virginia Promise and other programs, and offering world-class academics and research that drive innovation in the dynamic Washington, D.C., region.
"It's great to see that the country is recognizing what we already know—George Mason University is continuing its ascent among the nation's best universities," Washington said.
The rankings highlighted several other Mason programs (see a complete list at bottom), including: 
Mason has long been known for innovation, an ingrained experiential and entrepreneurial focus developed as a young university. Andre Marshall, vice president for research, innovation and economic development and president of the George Mason University Research Foundation, said those strengths continue to grow through multidisciplinary research and external partnerships that bring together different thought leaders, from science and technological experts to the humanities and social sciences, to fuel innovation.
"Mason's ability to discover and translate new ideas and technology is one of its signature strengths developed over 50 years of taking novel approaches to needs and opportunities," Marshall said. "Mason is a large-scale university with large-scale impact."
Mason's jump in the U.S. News diversity rankings reflects the university's increasingly diverse freshman classes and Mason's ability to attract, retain and graduate students from all backgrounds with no marked disparities in outcomes.
Mason's Anti-Racism and Inclusive Excellence efforts underscore that commitment, as does a recent National Science Foundation grant dedicated to building and maintaining more diverse faculty and staff. Mason was also recently ranked by College Factual as No. 1 in the nation for serving veterans and No. 2 among public universities for serving nontraditional students.
"Diversity in its many forms is among our greatest assets at Mason and is in fact one of the many reasons students choose Mason," said Sharnnia Artis, vice president for diversity, equity and inclusion. "Students feel welcome and supported in our university community. These interpersonal experiences on our campuses is another way in which we prepare our students to be successful."
The cyber and computer science rankings emphasize Mason's leading role in the Tech Talent Investment Program, a statewide initiative to fill critical job vacancies in the Commonwealth of Virginia. In addition to the cyber and computer science rankings, undergraduate engineering was 57th among public universities, another indication that Mason is educating and graduating the digital innovators of the future.
"Mason is holding up its end of the bargain in delivering career-ready tech talent in high-demand fields," said Ken Ball, dean of the College of Engineering and Computing. "These accolades also shine a light on Fuse at Mason Square, which will soon be a hub of innovation in support of Amazon HQ2 and the tech industry throughout the region."
Other Mason undergraduate programs U.S. News rated particularly highly were undergraduate business (53rd among publics) and nursing (70th).
The business school ranking highlights a host of strengths in serving students, including the school's national and international focus, said School of Business Dean Ajay Vinzé, whose ambitious goals include building a new business school.
"This ranking affirms our ability to produce career-ready graduates, stay atop of technology and innovation, conduct impactful research, and collaborate with the business community," Vinzé said.
The undergraduate nursing category was a ranking that U.S. News added last year. Mason's ranking, up from last year, comes at a time when the College of Health and Human Services (CHHS) is vying to become the state's first College of Public Health.
CHHS Dean Melissa J. Perry noted that health care careers are expected to increase by more than 2 million jobs in the next decade. Mason has been supplying the region with nurses for almost five decades.
"There is a nursing crisis, and there is a health care provider crisis," Perry said. "The U.S. News recognition signals to the country that Mason is rising to this challenge by providing top-notch educational opportunities to ensure a future with expertly prepared health care providers." 
Overall ranking
Publics: 64 (up from 67)
Nationally: 137 (up from 148)
Diversity
Publics: 7 (up from 12) Best in Virginia
Nationally: 13(up from 21)
Innovation
Publics: 8 (up from 9) Best in Virginia
Nationally: 20
Undergraduate Cybersecurity
Publics: 10 (up from 15)
Nationally: 19 (up from 28)
Undergraduate Computer Science
Publics: 40 (up from 45)
Nationally: 72 (up from 82)
Undergraduate Business
Publics: 53
Nationally: 86
Undergraduate Engineering
Publics: 57
Nationally: 94
Undergraduate Nursing
Publics: 70 (up from 71)
Nationally: 93 (up from 96)
Best for Veterans
Publics: 58 (up from 62)
Nationally: 89
A+ School for B Students
More About How Mason Stacks Up in the Rankings
In This Story
People Mentioned in This Story