Read about more Mason Alumni
Body
Business advocate. Connector. Artist. Proud Mason alumna.
Those are a few words that describe Prince William Chamber of Commerce President and CEO Debbie Jones, BA '78. After more than 32 years of service in the Chamber of Commerce, Jones is retiring this December.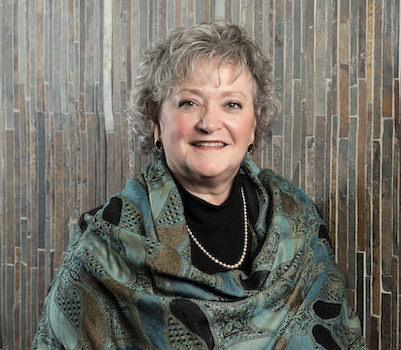 She began her Chamber career in 1990 as the communications coordinator at the Prince William County–Greater Manassas Chamber. She was promoted to president and CEO in 1993.
"As an art major who never took a business class, I never expected to spend most of my career running a business organization," said Jones.
Mason's hallmarks of innovative problem-solving and collaborative teamwork are universal, Jones said, and students across every discipline learn and carry them with them into the workforce.
Jones reflected, "I pride myself on always finding creative ways to solve a problem, work with others, and form a team to get things accomplished."
In 2010, she faced one of the greatest challenges in her career—managing the merger of the Prince William–Greater Manassas and the Prince William Regional Chambers of Commerce. As chief operating officer, she worked to transition Chamber members, staff, and Board of Directors into the newly created Prince William Chamber of Commerce. In July 2014, she was promoted to the Prince William Chamber's top job, president and CEO.
Jones is a renowned connector. "Over the years, I helped to connect the business community, governments, educators, and not-for-profit organizations." She's most proud of the work that's been accomplished at the Prince William Chamber to make it a go-to resource for organizations seeking collaborative relationships and partnerships.
Her work with the Prince William Chamber expanded her relationship with Mason. She is the membership chair of Mason's Science and Technology Campus Advisory Board, where she has been a member since the board's inception in 1999.
The Prince William Chamber has also sponsored SciTech Campus events, such as the 50th Anniversary Celebration that was held earlier this fall.  
Jones's impact also extends to Mason students. Mason School of Recreation, Health and Tourism students have held internships at the Chamber, where they can apply their classroom knowledge in the real world.
She encourages all students to "take advantage of every opportunity, take chances, do new things, and meet people. You never know whom you will meet and how they will change your life."
In 2019, Mason's Alumni Association recognized Jones's accomplishments with the Thomas W. Iszard IV, Distinguished Alumni Award from the College of Visual and Performing Arts. She calls upon fellow alumni to, "Make a difference! Get out there, meet people, and give back—your time, treasures, and talent."
What's next on the horizon for Jones?
The next phase of her life, "Debbie 2.0," features plenty of self-care, specifically walking and traveling, spending time with family and friends, devoting more time to her art, and making time to relax and regroup.
While her time at the Chamber is concluding, Jones plans to continue to use her connections and skills to make a difference.