Body
Aadith Iyer walked onto the stage at Theater J in Washington, D.C., and, as he said, "my stomach dropped."
"I was, like, this is huge," Iyer said. "It was very intimidating."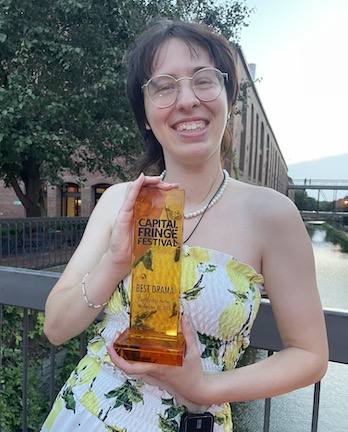 But, wow, what an opportunity.
Iyer, a junior theater major at George Mason University, was part of a cast and crew made up entirely of Mason students and graduates that performed "The Road to the End" at the recent Capital Fringe festival.
Written by Bella Panciocco, BFA Theater '23, and directed by Megan Gray Lederman, BA Theater, BA English '23, and Darren Badley, BA Theater '23, the play got strong reviews from DC Theater Arts and Broadway World and won for best drama at Fringe in an audience vote.
"It was," Panciocco said, "really surreal."
It also was a showcase for the opportunities and experiences available to Mason students, as well as a reminder about how a university experience can be enriched by sampling all a campus has to offer.
Mostly, though, it was a payoff for all the hard work.
"I've truly seen everyone's growth," said Panciocco, of Oakton, Virginia. "It was really beautiful to see because we were all learning together, and isn't that what we should be doing? Learning and figuring things out, so when we go into the field we can be that next generation of 'this is how it should be done.'"
"The Road to the End" is about a father-and-son road trip to the Grand Canyon, a story that emanated from Panciocco's trip with her mother to the Grand Canyon to mourn the loss of her grandfather.
The play originally was produced for the College of Visual and Performing Arts' Mason Arts at Home series. April Brassard, an adjunct professor in the School of Theater and Panciocco's writing mentor, suggested Panciocco submit the play to the Capital Fringe, the annual festival in Washington, which is just 20 miles from Mason's Fairfax, Virginia, campus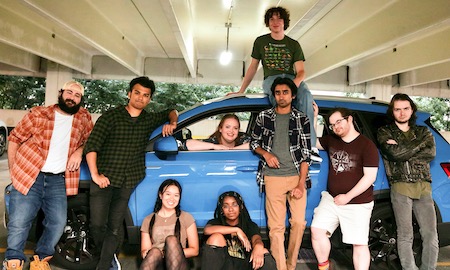 Brassard, BA Theater '12, had her own play, "The Morphine Diaries," shown at the Fringe in 2011 in a space above a D.C. bar.
So when "The Road to the End," was placed at 240-seat Theater J, she told the cast and crew, "This is the real deal. You don't know how lucky you are."
Lucky to show their work on a real stage in front of a D.C. audience and mingle at Fringe events with other performers and directors.
"The thing about Fringe is the exposure. They might be able to make some connections going forward," Brassard said. "I knew they would be in front of an audience, in front of critics. I knew there would be some anxiety, but I knew they were ready."
For Iyer, who is from Lorton, Virginia, and played the lead role of Henry, the experience was another step in a career arc he hopes will result in roles in movies and television.
Iyer said he loves theater because "it's a different form of acting."
"It challenges you differently," he said. "I love memorizing lines and having this whole book in your head when you go on stage and have to perform it over and over again in front of a lot of people. That's very challenging. I believe any good actor should have theater experience."
The experience was entirely different for Jessica Nguyen, who played Dabria, a hitchhiker. A junior computational and data sciences major from Fairfax, Nguyen said being part of something outside her comfort zone made her Mason experience richer and "helped me relearn what it's like to be a student."
"Just having something in your portfolio that says I was able to do this, so why would I fear something new later?" Nguyen said. "That's what being a student is about, taking risks. That is what acting is, too. With every rehearsal, I was learning more about myself and what fears I was able to diminish by just saying 'yes.' "
"They wanted to share the story and be part of this," Panciocco said. "And I think this paves the way for future opportunities for Mason theater majors."
The rest of the cast and crew:
Sage Munson (BFA theater '23)
Kendall Huheey (BFA theater '23)
Keaton Lazar (BFA theater '25)
Hansin Arvind (BA theater '22)
Bertem Demirtas (BA theater '25)
Michael O. Jarvis (government and international politics '25)
Toni Avonne (BFA theater '22)
Brett Womack (BFA theater, BA mathematics '25)
Samba Pathak (BA theater '23)
Caleb McMurtry (BA theater '24)
Elisabeth Dupuy (BA theater '24)
Sarah Strunk (BA film and video studies '22)
Hannah Griffith (BA theater, BS marketing '25)
Mary Clare Bernier (BA theater '25)
Steven Franco (BFA theater '23)
More News from the College of Visual and Performing Arts (CVPA)
In This Story
People Mentioned in This Story