Body
HNRS 360: The Silkroad and the Railroad is the kind of course that could only happen at George Mason University. With artists-in-residence Silkroad Ensemble as partners, 25 Honors College students from 17 majors are exploring cultures and histories, music and narratives, impacts and legacies of the Transcontinental Railroad.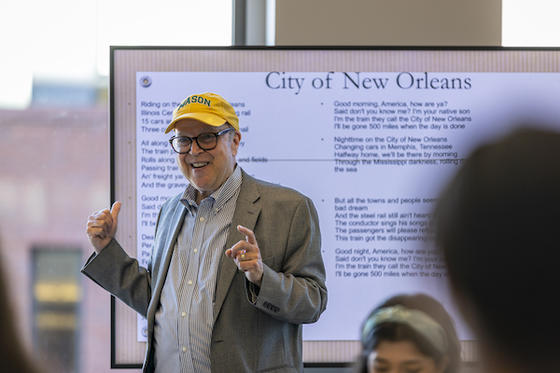 It was a natural fit for Rick Davis, the dean of the College of Visual and Performing Arts.  
"Transportation is my lifelong passion and obsession—railroads, planes, ships, anything that moves people or objects," said Davis, who as a young boy, would ride his bike to the closest train station several miles away from his home. 
As far as the development of the United States, the transcontinental railroad was a game changer, said Davis, but "there are also undercurrents that were devastating to certain groups and all of it created art— paintings, photography, poetry, and other narratives—and the beauty of the Silkroad Ensemble's insight is that you can make a concert by readapting old songs and creating new material." 
Alexandra Tyler is a junior forensic science major and second year captain on Mason's Swim and Dive team. 
"I've really enjoyed having Dean Davis as a professor," said Tyler. "We started off the first class with singing and it caught me off guard at first, but it was a pleasant surprise. It was something new and definitely a different form of learning that I haven't been exposed to before."  
The class is split into two teams—Eastbound and Westbound, mirroring the way the transcontinental railroad was constructed. Each student is responsible for a research vector, some aspect of the transcontinental railroad or its impacts that they will present as a final project. 
"The range of topics is phenomenal," said Davis. Some students choose to follow their vocational training, and others are looking into areas that simply interest them. For example, there are economics and government majors who are researching the financing of the transcontinental railroad, including hardball politics and credit fraud scandals.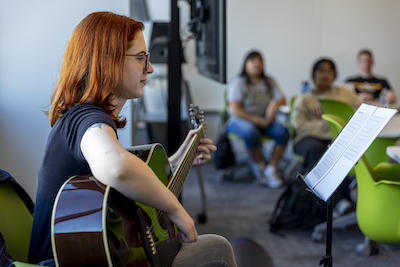 "The most interesting parts of the class are the artist visits over Zoom. They all came to us from different parts of the world," said Nafisa Weeks, a junior double majoring in government and international politics and Korean language. "Mazz [Swift] who is from an African American background and Pura Fé, who is a part of the native indigenous Taino community—we got to hear their different styles of music and that experience made me really happy. I love seeing what they're doing and how it connects to what we're doing in class." 
"[This course] really allows us to step out of our comfort zones, and I feel like this is another way to get a global perspective," she added.  
The Silkroad Ensemble will perform their current project, American Railroad, at Mason's Center for the Arts on Nov. 5.  
"The theme behind this concert is uplifting the voices of the folks who built the transcontinental railroad as well as other railroads within the United States; what those interactions were like and what those heritages are," said Mazz Swift, a Silkroad Ensemble performer. "We are really focusing on Irish, Indigenous, Black Americans and Chinese communities, and so there is representation from all of those countries and communities." 
More news from Mason's Center for the Arts
In This Story
People Mentioned in This Story