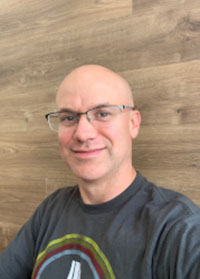 Titles and Organizations
Assistant Professor, Computer Game Design, CVPA
Contact Information
Campus: Fairfax
Building: 2015 Art and Design Building MSN: 1C3
Email: tprawat@gmu.edu
Phone: 703-993-8823
Biography
Professor (Ted) Prawat has been involved in the serious games field for the last decade. Professor Prawat was drawn into the field of serious game design after completing an artist in residence and teaching position at a new experimental dual language immersion school located in Beijing, China. Professor Prawat became a Curriculum Specialist at Michigan State University, and during this period of time decided to pursue an understanding of the field of serious game design.
Drawing on his own early interest in art, music (all genres), and video games; Prof. Prawat has focused on producing games based on two key criteria: Meaningfulness, which gets at the learning aspect of the game, and engagement, which is required especially with today's young people. Creating imaginative and interactive situations in the game are essential ingredients in this regard. So too is the notion of "transaction" as it relates to knowledge: Knowledge that opens students' eyes to important objects (phenomena) and actions in the environment can create interest and encourage further engagement with the subject matter.
One of the games Prof. Prawat is developing is a detailed 3D version of the Titanic. Students are guided through the experience and invited to raise STEM-related questions about aspects of the ship (e.g., How can steam move the ship forward at 28 mph?). A second serious games project that he is working on, called Cultural Mechanics, focuses on introducing "fun facts" about contemporary cultural heroes in China that will help students in the U.S. understand why they are so popular (e.g., Super Dan who can make a badminton birdie travel 200 mph).
Prior to joining the faculty in the Computer Game Design program at GMU, Prof. Prawat was an Assistant Professor of Education and the Design Center Director for the Center for Innovation in Education at Thomas College. He received a BA degree from Miami University in Ohio and an MFA from Indiana University in Painting.
Degrees:
MFA (Painting), Indiana University
BA (Painting), Miami University, Ohio