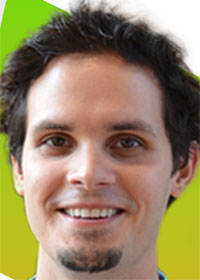 Titles and Organizations
BFA Computer Game Design, 2013
Personal Websites
Biography
What made you choose Mason's Computer Game Design program?
After high school I wanted to pursue animation as a career. After 2 years at community college I saw that Mason had a new Game Design program. I hoped this program would provide me the opportunity to pursue animation and digital arts as a career.
What makes the program at Mason stand out above the rest?
The faculty. Having teachers that have real experience in the field is paramount to conveying what life and work is really like in the industry. They are also avenues into opportunities if you use your resources right.
What brought you together with Kyle Bishop and Stewart Van Buren to build a startup company?
Kyle had started Little Arms Studios right before graduating. Kyle, Stew and I figured why not make our own game and start our own studio. The three of us had worked together on many group projects and ran GADIG for a while so we knew we worked well together and knew each others' quality of work.
Was there a particular professor or professors that inspired you?
For me, Professor Greg Grimsby was the most outstanding professor at Mason. Not only is he very knowledgeable, but he is an excellent teacher. He really cares about teaching and it shows through his classes.
Which were your favorite classes?
Animation and Game History
What was your senior capstone?
A first person shooter called Merge that I worked on with Daniel Cloth. I created environment assets and weapons and Daniel showcased his animations.
Is there anything else you can think of that might be of interest to prospective Game Design students?
Take any and every opportunity you can and just keep creating. Learn from failed projects and keep pushing forward.