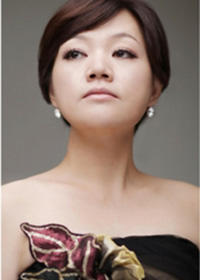 Titles and Organizations
Term Assistant Professor of Music, Collaborative PIANO, Dewberry School of Music, CVPA
Contact Information
Campus: Fairfax
Building: de Laski Performing Arts Bldg
Mail Stop: 3E3
Email: ehan5@gmu.edu
Biography
Dr. Eunae Ko Han, Term Assistant Professor in Collaborative Piano at Mason, has previously served as an adjunct opera coach and collaborative pianist in vocal studies at George Mason University since 2014. As a new full-time artist faculty member in Collaborative Piano at Mason, Dr. Han focuses on performing and coaching for the vocal and instrumental areas. In addition, she organizes and coaches collaborative piano assignments within the Dewberry School of Music.
Dr. Han received her D.M.A. in Collaborative Piano at the University of Maryland at College Park (UMCP), studying under Rita Sloan, who founded and directs the collaborative piano program at the Aspen Music Festival. Her doctoral dissertation was on innovations in French chamber music and melodie – through a collaborative pianist's perspective – exploring the role of piano in accompaniment. Dr. Han also earned her Master of Music degree in Piano Performance from UMCP and her Bachelor of Music degree in Piano Performance from George Mason University. While studying at UMCP, she held positions as the pianist for the University Symphony Orchestra, the accompanist for the Chamber Singers and the Maryland choir, and the pianist coach for the UM Opera Studio. Additionally, Dr. Han received the McCoy Award for Collaborative Pianist and First Place in the Ulrich Competition at UMCP. She also received a rave review from the Washington Post for her performance of Mozart's opera, The Impresario, at the Clarice Smith Performing Arts Center. As part of the "Songfest" in Malibu, California, under the tutelage of Martin Katz, she premiered pieces by distinguished composers including Jake Haggie and John Harbison.
Dr. Han has extensive experience as an accompanist and a chamber musician, performing in numerous concerts and recitals throughout the United States, Korea, China, and Japan. She frequently plays in the U.S. Air Force Chamber Music Series recitals and has traveled abroad to perform with choral, vocal and instrumental chamber groups in Mexico, Thailand, Cuba, Costa Rica, Turkey, Kazakhstan, and Kyrgyzstan.  She actively performs as a collaborative pianist for both vocal and instrumental recitals throughout the Greater Washington Metropolitan area, as well as in New York. In 2017, she founded the Kalos Trio (along with violinist Yoojin Baik and cellist Hyunji Choi) and organized the Benefits Concert for the Homeless at the historic New York Avenue Presbyterian Church in Washington, DC, performed Vivaldi's Four Seasons as part of the Angel's Concert Series at the Church of Holy City in Washington, DC, and performed Mendelssohn's Piano Trio No. 2 at Carnegie Hall in New York City.
Term Assistant Professor of Music
Collaborative Piano
Vocal Coaching
Applied Piano
Piano Chamber
Education
DMA, Collaborative Piano, University of Maryland – College Park
MM, Piano Performance, University of Maryland – College Park
BM, Piano Performance, George Mason University