In This Story
People Mentioned in This Story
Body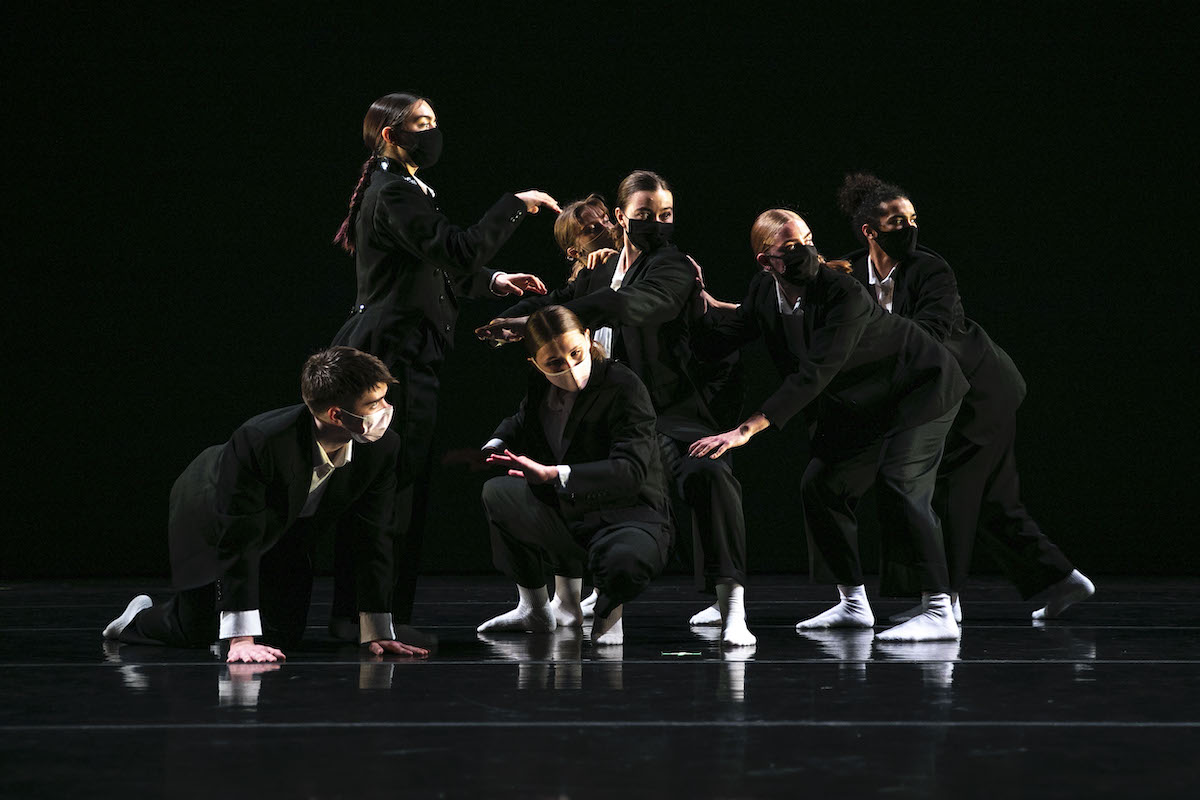 George Mason University's School of Dance students are excited to be back performing before a live audience as they present "Fall: New Dances"—performances filled with diverse choreography, talented dancers, and new works created by students.
The performances will be at 8 p.m. on Nov. 12 and 13 at the Hylton Performing Arts Center, Merchant Hall, on Mason's SciTech Campus in Manassas.
"Our dancers and choreographers are just hungry to be sharing their art, and they have a lot to communicate," said Karen Reedy, director of the School of Dance. "The performances will feel like we are back and running."
Reedy said that there are eight dances in the "Fall: New Dances" program, all choreographed by Mason dancers.
Like many of his fellow dancers, dance major Dareon Marquel Blowe is ecstatic to be back in person.
"You will see us pouring our hearts on the stage to show all of the emotions we've dealt with in the last few years," said Blowe, who is from Newport News, Virginia. "I believe the biggest takeaway from this year's 'Fall: New Dances' is the commitment to our art form."
Blowe is performing in three works: "Sole," "X and why?" and "This must be my entrance." "Each piece is drastically different as they all approach a series of mental, emotional, and physical strain," said Blowe. "We discuss the power of the mind and toxic masculinity, as well as the ability to showcase diverse musical scores."
Preparation for the concert began with an audition of 80 dance majors early in the fall semester. Reedy said that dance composition is an important part of the School of Dance curriculum.
"Our students are mentored by faculty, but these are independent projects," she said. "These young artists each have an idea they are excited to bring it to life."
Sophie Rebecca Amundson, a senior dance major with a minor in forensic psychology, is both a choreographer and performer in this concert. 
"My piece is about the relationship between a pianist and their piano," said Amundson, who was inspired by an old Bugs Bunny cartoon titled 'Rhapsody Rabbit' but noted that her piece moves beyond the comedic concept in the cartoon. "I wanted to explore not only the relationship between piano and pianist but also the relationships between different parts of the piano."

"Preparing for the show this semester has been incredibly exciting," said Amundson, who is from Los Angeles, California. "Although we were still masked, being able to touch and experiment with partnering after the long two years of COVID precautions felt like a breath of fresh air.
"You get this opportunity to see the fabulous dancing and original works by these young choreographers, who will be the next generation in our field," said Reedy of the performance.
Reedy also said that artists tend to reflect the times. "We are living in challenging times with the ongoing pandemic and so much important change and transition in our society. I think you'll see all of that reflected in the work."
"Coming to the theater and sharing community is much a part of what we do," said Reedy. "Our art form is physical, human and it brings community together."
"Fall: New Dances" is the school's first performance of the 2021-22 season. To see the schedule of performances, visit the website.