In This Story
People Mentioned in This Story
Body
Bringing local communities together to celebrate and explore Latinx cultures Hylton Center Artist-in-Residence Ballet Hispánico participated in multiple days of in-person and virtual activities with Northern Virginia dancers leading up to their performance February 19.
Director of Programming at the Hylton Center, Adrienne Godwin, notes the significance of this residency, "Ballet Hispánico has been our first in-person Artist-in-Residence since the pandemic started. I haven't witnessed this much collective joy in so long, and it has been a true honor to see the company members inspire smiles from our community members of all ages. They are skilled educators and communicators, and we are so fortunate to have them share their incredible artistry."
Elementary through high school students at Hunters Woods Elementary School, Hylton High School, and Round Elementary School collaborated with Ballet Hispánico in dance classes that weren't just educational, but incredible fun.
Julie DeGregorio Ohrnberger, Dance Resource Teacher of Fairfax County Public Schools, recounts the week's activity at Hunters Woods Elementary School, "The energy was contagious as everybody moved and learned new styles of dance. I am appreciative that my students had the opportunity to learn these styles from other talented professionals in the dance field."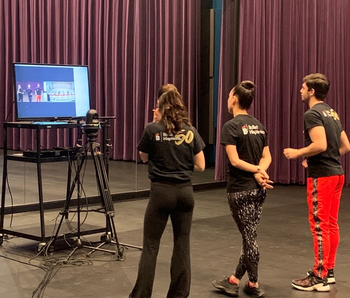 Second graders from Round Elementary School expressed what they took away from their individual experiences, and shared feedback including "people from everywhere can be a dancer" and "I went home and taught my grandmother the dance!" Their music teacher Cathy Drummond adds, "It was wonderful to see the students fully engaged in the dancing. One student in particular was enjoying herself freely in the movement which was a big step for her as she usually stands off by herself and doesn't participate in activities."
Additionally, George Mason University's School of Dance students took part in a masterclass on the Fairfax campus, a community masterclass was offered in the Hylton Center's Ballard Postma Rehearsal Studio, and Manassas Lifelong Learning Institute members participated in a lecture-demonstration at the Hylton Center, both of which included education on cultural context and contemporary dance forms inspired by multicultural Latinx experiences. Engagement activities including Latin Social Dance classes, technique and repertory masterclasses, and lecture demonstrations, were led by members of the company, including Artistic Director & CEO Eduardo Vilaro and Associate Artistic Director Johan Rivera.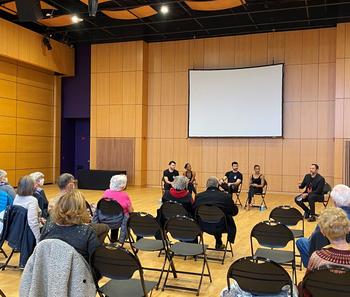 Hylton Center Education Coordinator, Marit Majeske, notes, "I am grateful for the time Ballet Hispánico spent sharing their Latinx cultures and exploring the intersectionality of cultures through dance with learners in our community. I was amazed by their ability to work with learners of all ages and to move seamlessly among different age groups – from kindergarten to Lifelong Learners. It was thrilling to witness the interactions between the company and community members and celebrate the fact that these events were able to take place largely in person. I hope that the conversations that started during Ballet Hispánico's week with us continue in the future to help create a more inclusive community."
Launched during the 2019-2020 season, the Mason Artist-in-Residence program connects visiting artists with on and off-campus communities, offering a variety of activities created to engage and inspire. These residencies are designed to foster meaningful exchanges between our communities and the artists, as well as create opportunities for transformational experiences, transforming the venues' stages, studios, and labs into a creative classroom where artistic and intellectual exploration is developed and nurtured.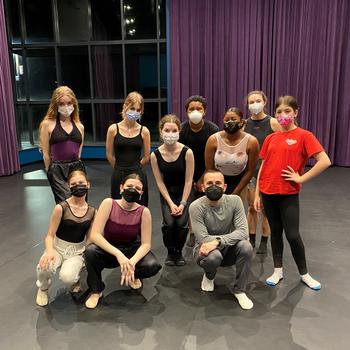 Eduardo Vilaro, Artistic Director and CEO of Ballet Hispánico, perfectly summarizes the successful week of activities, stating, "Our time in Manassas with George Mason has been a beautiful example of how the arts can lead us out of difficult times. Through intentional interactions with diverse communities, Ballet Hispánico was able to celebrate our Latinx voices and bring much needed joy, unity, and awareness. It is a testament to the leadership at George Mason and I look forward to being in collaboration with this spectacular center for years to come."
For more information about Ballet Hispánico, please visit their website.
This engagement of Ballet Hispánico was made possible through the ArtsCONNECT program of Mid Atlantic Arts with support from the National Endowment for the Arts, as well as Hylton Center's 2021-2022 Season Sponsor, F.H. Furr Plumbing, Heating, Air Conditioning & Electrical. This project is supported in part by the National Endowment for the Arts. Additional Education Initiative Sponsors include The McNichols Family Foundation, Lillian Ballard, and the Friends of the Hylton Center.
Zoe Harr, the Marketing Graduate Assistant at the Center for the Arts, contributed to this article.