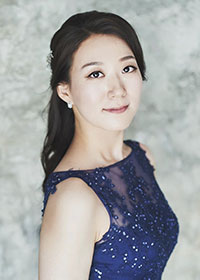 Titles and Organizations
Keyboard Skills, Dewberry School of Music, CVPA
Contact Information
Campus: Fairfax
Building: de Laski Performing Arts Bldg
Mail Stop: 3E3
Biography
Hakyong Kelly Park is a Doctor of Musical Arts candidate at George Mason University studying with Dr. Linda Apple Monson. A native of Seoul, South Korea, Hakyong began piano studies at the age of three. She moved to the United States in 2011 and has since performed in major cities in both countries. Hakyong earned a Bachelor of Music degree from Yonsei University (Seoul, Korea) under Dr. Young-Ho Kim, and a Master of Music degree from The Hartt School of Music (Connecticut) under Dr. Paul Rutman, where she was a collaborative pianist. She also earned an Advanced Certificate from New York University Steinhardt where she studied with Eduardus Halim, the last student of Vladimir Horowitz.
Hakyong was recently invited to have a recital and conduct a master class in Suzhou, China. She finished a recital tour of Connecticut as the winner of the Connecticut Young Artist Piano Competition. She performed in master classes for such artists asBoris Slutsky, Alexander Kobrin, HaeSun Paik, Logan Skelton, Min Kwon, Marilyn Nonken, Florence Millet, and Simone Dinnerstein. She also participated in the Mannes Beethoven Institute studying with Robert McDonald and Benjamin Hochman. Hakyong performed Liszt's Piano Concerto No. 1 at Frederick Loewe Theatre in New York as the Winner of the Steinhardt Concerto Competition. She also performed many Piano Recital Series in NYC. Hakyong Park was the prize winner of numerous Korean competitions including Eum-Youn Competition, Suri Competition, Seoul City Competition, An-Yang Competition, Kyung-Won Competition, and Music Journal Competition. She performed at the Seoul Arts Center (Concert Hall), Korea's preeminent concert venue, as the winner of the Kaywon Concerto Competition. Also a chamber musician, Hakyong has worked with violist Rainer Moog, Principal Violist of the Berlin Philharmonic.
Hakyong Park taught at New York University Steinhardt as Adjunct Faculty in Piano Studies. She is a recipient of the Friends of Music at Mason Scholarship Award and the Monson Endowment Scholarship Award. Hakyong was selected as a winner of Mason's 2018 Concerto competition where she performed Beethoven's 3rd Piano Concerto with the Mason Symphony Orchestra.
Education
Post-Master's Advanced Certificate, Music Education, New York University
MM, Piano Performance, The Hartt School
BM, Piano Performance, Yonsei University