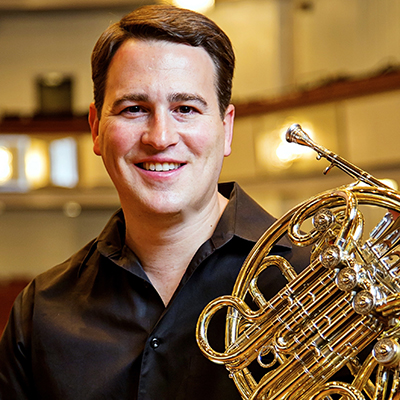 Titles and Organizations
Adjunct Faculty, HORN, Dewberry School of Music, CVPA
Contact Information
Phone: 703-993-1380
Campus:
Fairfax
Building:
de Laski Performing Arts Bldg
Room A417
Mail Stop: 3E3
Email: jnickel2@gmu.edu
Biography
French hornist James Nickel has been a member of the National Symphony Orchestra since 2008, where he currently holds the position of Third horn and serves as the Acting Associate Principal horn for the 2022-2023 season. Prior to joining the NSO, James served as Assistant Principal horn with the Dallas Symphony Orchestra, and as Associate Principal horn with the Montreal Symphony Orchestra He has also served as the Principal hornist for the Arizona Musicfest and has had the pleasure of performing as a guest Principal horn with esteemed ensembles such as the Los Angeles Philharmonic and the Philadelphia Orchestra.
James is an active chamber musician, performing with groups in the Washington, D.C. area such as the Smithsonian Chamber Players, the Eclipse Chamber Orchestra, and the 21st Century Consort. He has also participated in esteemed festivals including Mainly Mozart in San Diego, the Garth Newel Music Festival in Warm Springs, Virginia, the Stellenbosch International Chamber Music Festival in Stellenbosch, South Africa, the Music in the Mountains Festival in Durango, CO, and the Sun Valley Summer Symphony in Idaho, showcasing his versatility and passion for music.
In addition to his demanding performance schedule, James is a dedicated educator, serving as Professor of Horn at George Mason University in Fairfax, Virginia. He maintains a large private studio of high school students, and is actively involved in mentoring young musicians through the Kennedy Center's Youth Fellowship Program and the Washington Musical Pathways Initiative, where he shares his knowledge and experience with aspiring musicians.
Applied Adjunct Faculty
Degrees
BM, French Horn, New England Conservatory